South Sulawesi
This area is the gateway to Toraja to the north in the central highlands. Sulawesi Island is a mountainous region dominated by terraced rice paddies and features local village funeral ceremonies involving animal sacrifices.
Toraja is also known for its unique sweeping architectural style of roofs. Said to be symbolic of one's spirit coming from the stars travelling through the mortal coil of the earth experience, only to return back to the stars at death.
To the east is Bira, home of the Bugis boat builders who have been building traditional wooden boats for over 200 years. These elegantly-styled, yet very seaworthy, vessels called Phinisis have been traditionally used as cargo vessels, but more recently have been adapted for the tourist trade and liveaboard dive business.
Steeped in Indonesian shipping history, the entire cruising ground is busy with all manner of vessels plying their trade in the region. Keep a proper watch, especially at night.
MAKASSAR
630 miles from Ambon
MAKASSAR. 5°08.248S, 119°23.833E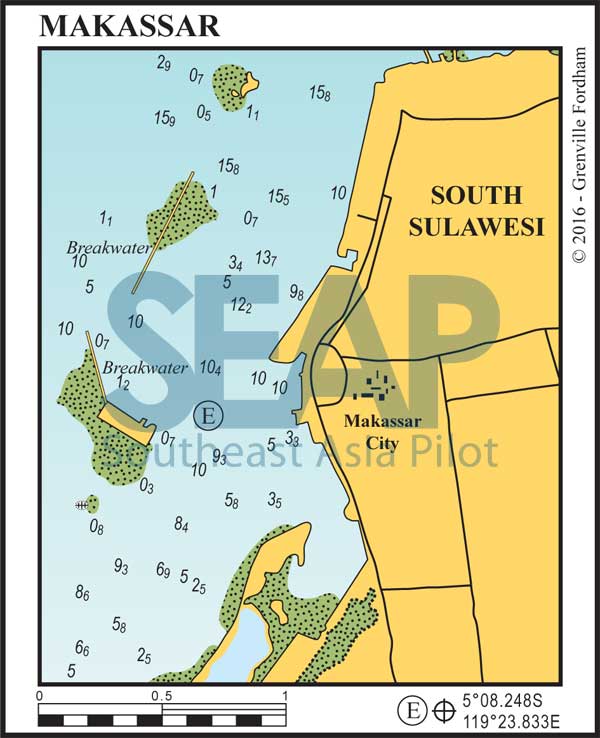 Access from the south is a little challenging but the northern approaches are deep and well marked. Anchor on mud and sand in 4-9 metres south of the main traffic areas. There are plenty of options for dinghy tie-up southeast, behind the new reclamation at the circular concrete esplanades.
Makassar is regarded as the southern Sulawesi capital and, as such, remains a bustling metropolis with plenty of action ashore, a lively nightlife and flight and ferry access to most connections in the Republic.
Most of what's needed for cruising yachts and superyachts can be easily found in this busy town – and what's not here can be flown in from Bali or Jakarta. There are plenty of markets, good repair facilities for all sizes of vessels and access to engineers and most major brand engine spare parts. Town and airport are a short ride away.
BANJAMASIN
500 miles from Jakarta
BANJAMASIN. 3°20.449S, 114°32.775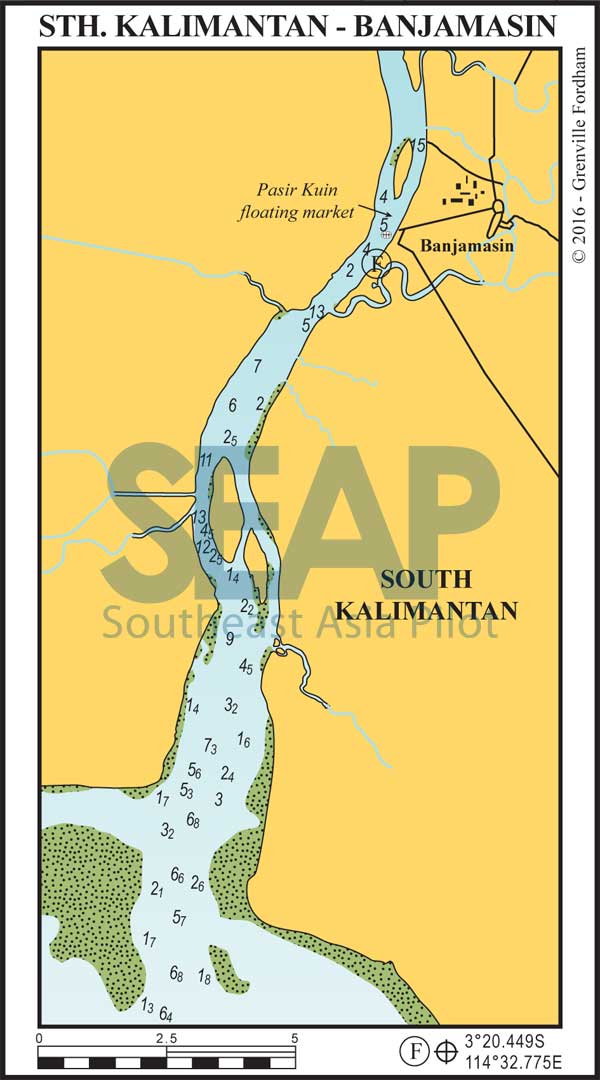 Anchor on mud in 15 metres just south of the north river mouth channel. The river entrance is busy, deep and well marked. Shallower draft vessels can motor right up to the first bridge and drop anchor anywhere in the river close in either side.
The main town of Banjamasin is accessible (a mile by dinghy, or by local boat taxi) and is a thriving town with all you'd expect from this part of the world. The airport is 30 minutes away and there are multiple flights to Surabaya and Jakarta.
Don't miss the famous floating markets (Pasar Kuin) north of the main anchorage. Take your camera and best haggling strategies. This is a memorable experience.
See also: