PERHENTIAN CHANNEL
45 miles from Terengganu
PERHENTIAN CHANNEL. 5°54N, 102°44.208E
This pair of islands is the last shelter with provisioning opportunity before crossing the Thai border. Rounding the point of Pulau Perhantian Besar to enter the protected channel from the south, what may have appeared to be a relatively uninhabited island is actually full of bungalows, hotels and restaurants on both sides of the channel.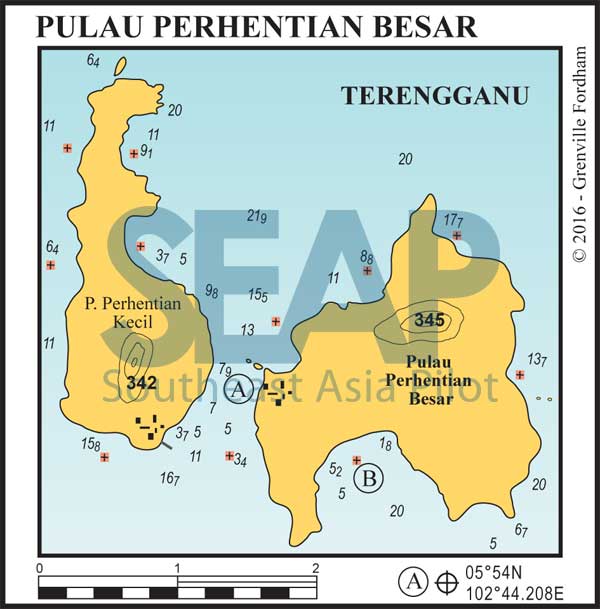 It is easy to anchor virtually anywhere in the channel in 5-8 metres, looking out for the occasional isolated shallow coral patches closer in on the east side. Our spot, in the south at the narrowest part of the channel, is offshore from several rustic dive bungalow resorts with plenty on offer day and night.
[read more]
The group's administrative centre is the village on Pulau Perhantian Kecil, where limited provisions are available and daily ferries run to Kota Bharu and Kuala Besut from the commercial jetty. Anchorage is available just south of the jetty on sand in 4-7 metres at 5°53.688N, 102°43.767E. The all tide beach south of the jetty is a safe place to leave your dinghy and the local market is a few hundred metres away. Jerry can amounts of fuel are available for sale.
An excellent sheltered spot in the southerly season is around Genting Point to the all-tide beach bay of Perhentian Island Resort. Anchor on sand in 5-8 metres in the middle of the bay at 5°54.248N, 102°44.504E and access the floating jetty in the west of the bay. Alternatively, across the channel at Long Beach is another spot with plenty of bungalow restaurants and dive shops at 5°55.039N, 102°43.436E. Anchor in front of the Mowhin Chalets in the south corner in 4-7 metres on sand.
Out of the channel and a few miles northwest are the twin islets of Susu Dara and the famous dive site Tokong Laut. Moor or anchor just south of the low-lying rocks to dive the underwater caves housing dozens of protected sleeping grey bamboo sharks. Pick up a mooring or anchor in a comfortable depth on sand in the south of the small channel between the rocky island and Pulau Susu Dara Kecil at 5°57.589N, 102°40.844E for access to these iconic dive sites.
[/read]