Ang Thong Islands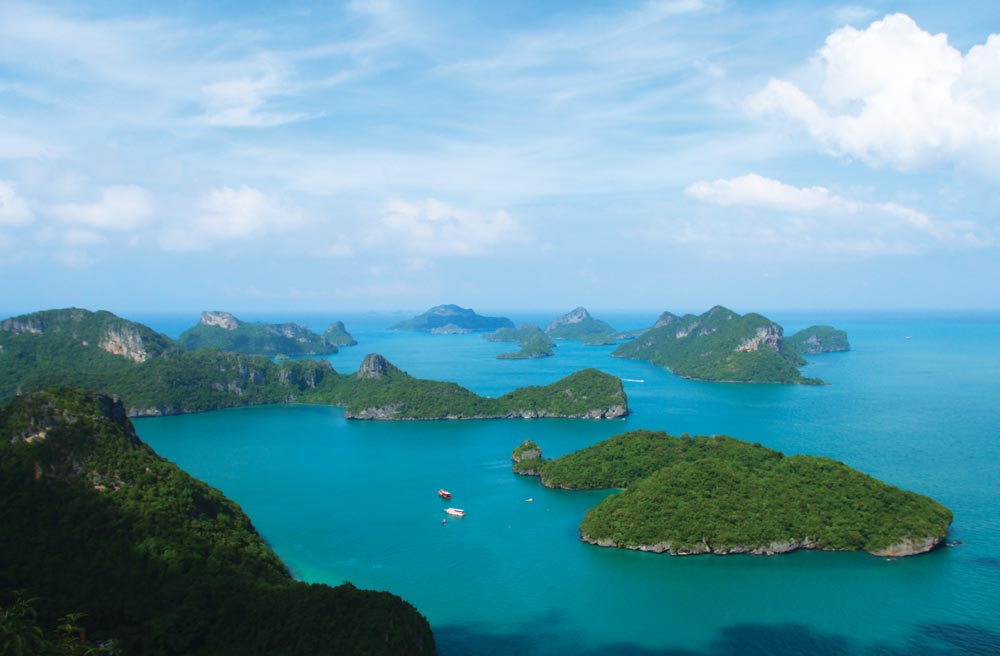 The rocky karst formations of this north-south string of islands – similar to those of Phang Nga Bay – has been declared a marine National Park. The many high, sheer-sided islands with narrow passages between them offer lots of scenic cruising.
During the calm season, several tour boats bring tourists from Samui. They're popular with Thais, since 'Mu Ang Thong' (Golden Bowl) is on the list of 'must see' places for any Thai who wants to say he's seen the entire country.
Fishing boats seek shelter amongst the steep, protective islands here. There are not many beaches, so only a few places to go ashore. The water is murky and there are no detailed charts of this group, so take note of the two warning boxes below.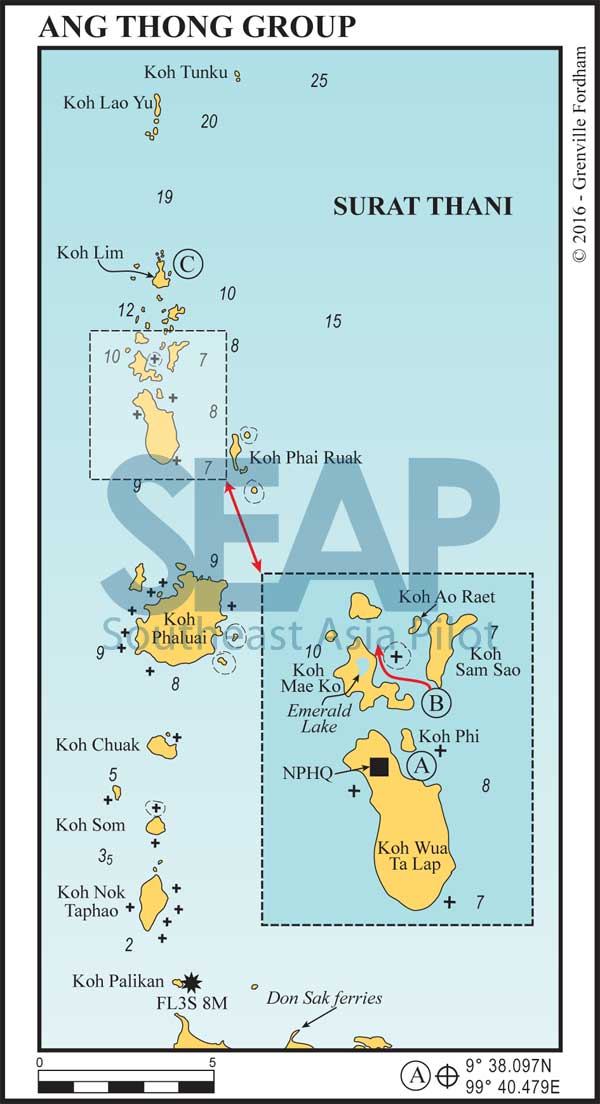 KOH WUA TA LAP
19 miles from Ao Nathon, Samui
KOH WUA TA LAP. 9°38.097N, 99°40.479E
Anchor in 8 metres on a muddy bottom – or preferably pick up an available mooring – on the northeast side of the island. Approach from the north or east, giving Koh Phi plenty of clearance to avoid underwater reefs.
If you feel like a hike, a 45-minute easy climb up 345 steps takes you to a viewpoint overlooking the islands. Proper shoes and water are a must! South of the main beach is a huge cave; keep an eye open for wild monkeys and bats.
Since this (often referred to as Koh Ang Thong on tourist maps) is the main island in the group, the National Park HQ has some bungalows, a restaurant and small shop; there's a fee of 500 baht each to enter the National Park.
Click to view Thailand photo gallery.
Rocks in the water
Heading north from Koh Wua Ta Lap to Koh Mae Ko, north of the southern-most beach, there is a coral head right in the middle of the passage. It is possible to pass on either side of this.
KOH MAE KO
1 mile from Koh Wua Ta Lap
KOH MAE KO. 9°39.515N, 99°40.034E
Approach from the northeast, on a course of approximately 230°, north of Koh Sam Sao and Koh Ao Raet, avoids all rocks on the way into the anchorage. Koh Ao Raet is called 'Sphinx Island' or 'Koh Hanuman' by local tour operators due to its rock formation profile.
Approaching from the southeast, there's a large rock mid-channel, which should be left to starboard. Off a small beach is a red buoy, which marks an underwater rock. Here there's a small platform which offers access to a path leading to an inner lake, and a cave under the mountain (Emerald Lake).
The next beach northwards now has a small jetty giving access to the island and jungle pathways and is the main tourist drop‑off, making this the better option. Look for a good anchorage in about 7-8 metres off this third beach coming from the south, on the east side of the island.
KOH LIM
5 miles from Koh Wua Ta Lap
KOH LIM. 9°42.350N, 99°40.620E
The anchorage is well off the island on the northeast side in 10 metres on a hard bottom. It's not suitable for overnight stays. This island, at the northern end of the group, away from the worst of the riverine sediment from the west, has reasonable coral formations in limited visibility.
Click to view Thailand photo gallery.
Rocks in the water
Between Koh Mae Ko and Koh Hanuman (AKA Koh Ao Raet or Sphinx Island) there is a sharp point of rock just beneath the surface which is only visible at extreme low tides.
See also: