Bangkok & the Chao Phraya River
THE MOUTH OF THE RIVER
13° 29.029N, 100° 36.291E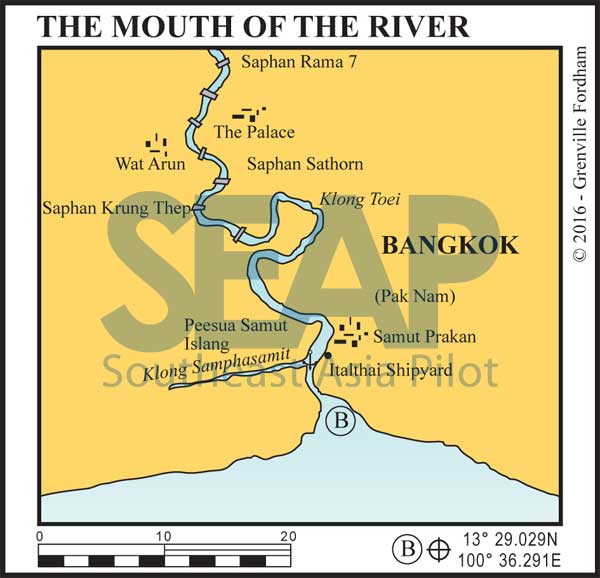 Pak Nam, or the 'Mouth of the Water', is the area from the Samut Prakan to the sea. The channel starts six miles south of the mouth of the river leading up to Pak Nam, and is clearly marked by 40 green and red buoys. The channel is 7 metres deep and is commonly used by ocean-going cargo ships as well as by smaller local boats and barges. Currents are significant, especially the south-setting flow during ebbing tides.
[read more]
A network of Klongs (canals) links the rivers and waterways of Pak Nam. Longtail and express boats are available to take you to Bangkok (1 hour) or to Samut Sakorn, 30 kilometres west on the River Tha Chin. The klongs can be explored by dinghy, but beware of floating plastic bags and obstacles. Bring a spare pin for your outboard motor propeller.
Samut Prakan is a port of entry for Thailand. The anchorage for customs and immigration lies west of the northern point of Peesua Samut Island. Tie your dinghy up to any of the several small jetties. A typical Thai Town, Samut Prakan has a busy central market where basic food and supplies and mechanical shops are available (and where only Thai is spoken).
Bangkok is 25 kilometres, or a half-hour away by road, traffic permitting. Fuel is available from several jetties situated on the east side of the river. Water and fuel are available at three jetties on the west bank, north of the entrance of Khlong Samphasamit, and near Khlong Tari east of Buoy #34. Though the chart indicates very shallow banks, sea-going tug boats and fishermen refuel here.
[/read]
See also: