Koh Tao
This island, 34 miles northeast of Koh Samui, has a boulder rock coastline and the clearest waters and best diving in the Gulf. The island is booming with many dive shops and resorts and is now a well-established scuba destination.
[read more]
Access is by ferry from Phangan and Samui or from the mainland at Paknam, Chumpon, due west of Koh Tao. Daily speedboat services also run from Chumpon and Koh Samui.
In the northeast season, November to February, the seas can become rough enough to stop all boat traffic and cut the island off for a few days at a time.
The one small town on the island, which has a jetty, is on a long beach along the west coast. The western side of the island has become one long busy town. The unusual three-armed beach formation between Koh Hang Tao, Koh Nang Yuan and the small islands on the northeastern point of Koh Tao is spectacular and now hosts a number of bungalow resorts with a focus on diving.
Extensive artificial reefs have been laid down all around the island and anchoring anywhere is frowned on; be aware that damaging coral can get you in trouble with the authorities. There is a plentiful supply of organge buoys for free public use.
[/read]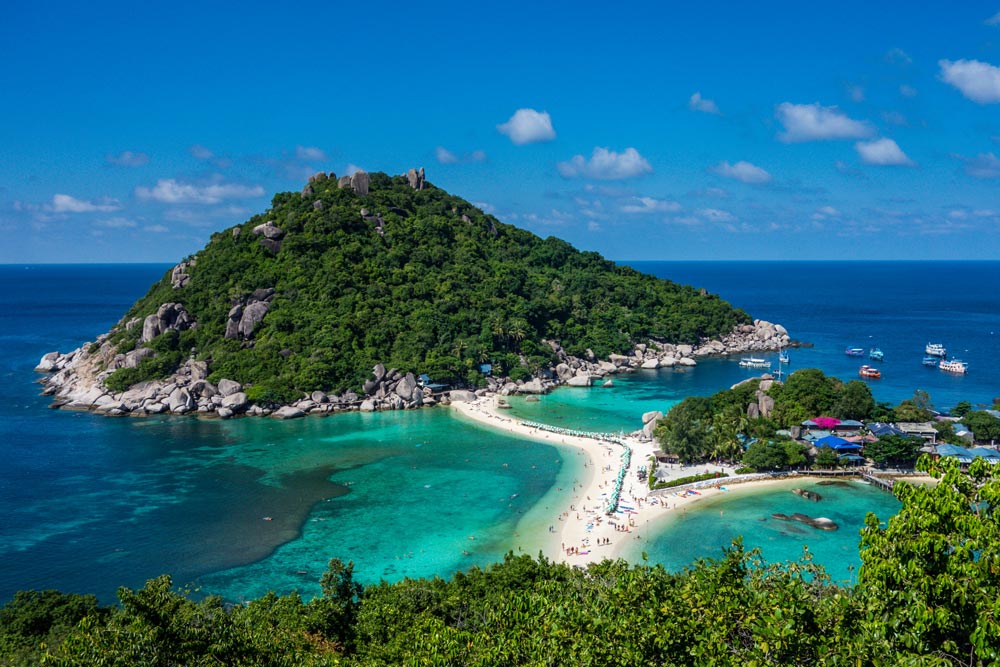 PLEASE DON'T anchor on coral
Mooring lines with orange buoys are available to cruising sailors in most Koh Tao bays. They're designed to hold up to 3 moderate weight vessels strung comfortably in reasonable weather. When mooring lines are present, assume fringing coral or artificial reefs are nearby – so never drop anchor.
[read more]
Orange moorings are used for local company diving activities so they are generally close to good recreational diving sites in protected areas.
These orange-buoyed moorings are for public use, so anyone can use them, without charge. Be aware though, if you are on a mooring line associated with a dive site, dive vessels have the right to tie to your stern for a couple of hours until diving activities are finished.
Orange moorings are so plentiful you are almost guaranteed to find one. However, if all are occupied you have many environmentally-sound options to anchoring near coral. Ask moored boats to 'daisy chain' your bowline from their stern or 'raft up' alongside until they depart and the mooring line is free.
Alternatively speak to moored boat captains for advice on where in each anchorage you can anchor safely on sand, if at all.
Keep in mind anchoring anywhere is the last resort. If you do anchor around Koh Tao and damage any coral, you face the real risk of prosecution and fines – or at the very least an unpleasant time with some angry folk.
[/read]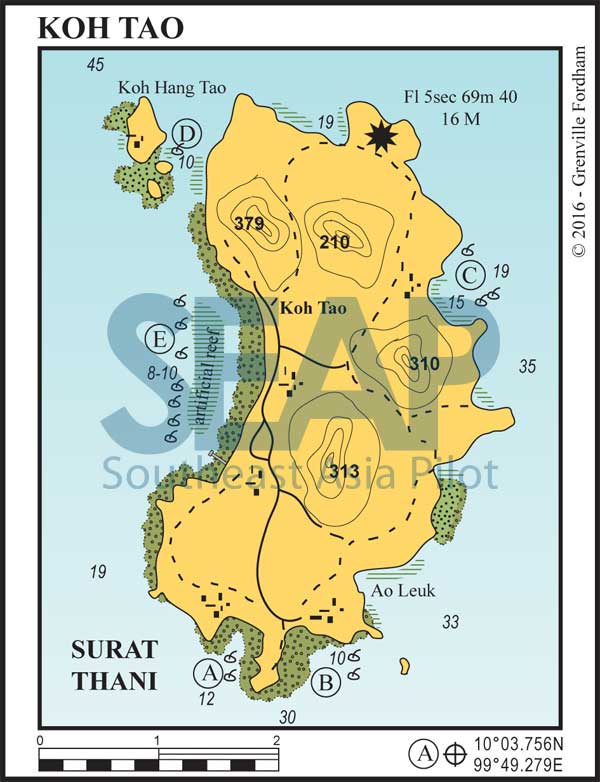 AO CHALOK BAAN KAO
34 miles from Ao Nathon, Koh Samui
AO CHALOK BAAN KAO. 10°3.756N, 99°49.279E
AO THIAN OG
34 miles from Ao Nathon, Koh Samui
AO THIAN OG. 10°3.674N, 99°49.960E
Both of these bays offer protection in the northeast season. As everywhere around Koh Tao, use the moorings; don't anchor anywhere near coral. There are restaurants and bungalows ashore, with good access at high tide only.
In the southwest monsoon, shelter can be found just to the north in Ao Leuk. Artificial reef has been laid in Ao Leuk so don't anchor here. Orange moorings are available.
Click to view Thailand photo gallery.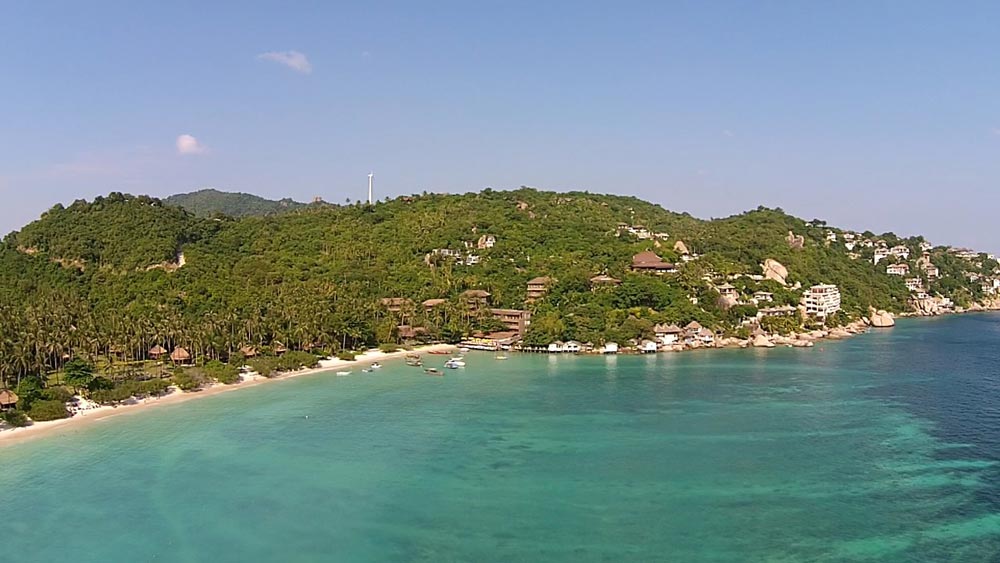 AO HIN WONG
5 miles from Ao Thian Og
AO HIN WONG. 10°6.398N, 99°51.001E
This bay has an artificial reef; please pick up a mooring. Ao Hin Wong offers the best protection in the southwest season and given the relatively short distances to other parts of the island, it's a good spot to make your base.
The walk over the hill to town takes around half an hour and is enjoyable exercise with great views. It's easy to grab a taxi back if you're provisioning at the well-stocked markets in Saree Village.
There's a floating pontoon for dinghies in the northwest corner of the bay, close to the small resort and restaurant. This is a deep anchorage where long term yachts prefer to stay; the diving and snorkelling is excellent.
Click to view Thailand photo gallery.
---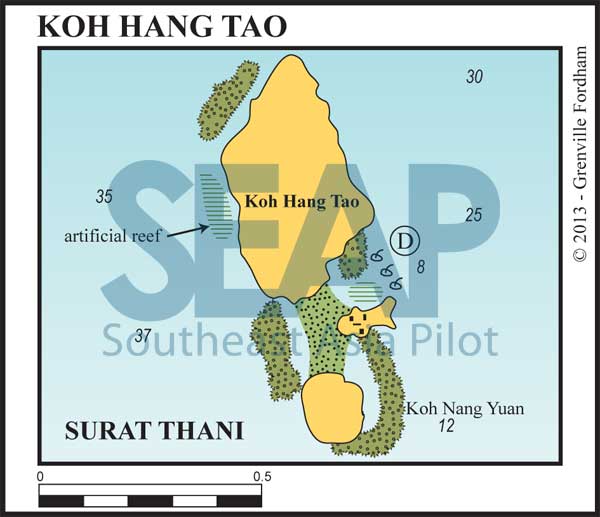 KOH HANG TAO & NANG YUAN
5 miles from Ao Thian Og
KOH HANG TAO. 10°7.147N, 99°49.010E
This is a stunning spot, with coral sand beaches having joined the three islets. The beaches are just covered at high water, but still provide protection from swell and waves.
Orange moorings can be found on the sandy patches to the north of the smallest island on the east side of the group, and the bottom is clearly visible. Alternatively, moorings are located west of Koh Hang Tao on sand in 12-15 metres.
Bungalows, a restaurant and dive shop are available on the middle island at Nang Yuan Resort. There are many underwater rocks to the west of these islets, which are marked by dive boat buoys, and are excellent for diving.
HAAD SAIREE & MAE HAAD
3 miles from Ao Thain
HAAD SAIREE. 10° 5.901N, 99° 49.498E
There is an artificial reef in this bay, which gives access to the main village on Koh Tao. Most of the passenger boats arrive at the jetty in the south of the bay. The bay is extremely busy with over 70 dive boat operations and frequent ferries using the jetty. All sorts of shops can be found ashore and it's a great spot to quickly re-provision.
Pick up one of the available orange moorings or, with permission, tie to the stern of a vessel on one. Care should be taken going ashore at low tide due to the coral heads and lines near the beach.
Many prefer not to use this anchorage, opting for the less hectic and easy Ao Hin Wong (C) on the east side. The road system allows easy access to Haad Sairee, so we only recommend this anchorage for shorter stops for dropping crew off or quick provisioning. The numerous lazy lines, moorings and tourist action near the beach can be overwhelming.
See also: