Koh Kut Archipelago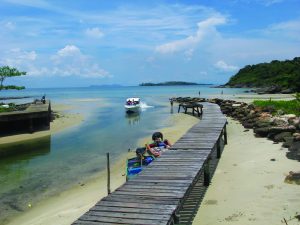 The last group of islands in Thai waters, the Koh Kut archipelago, is less-explored than Koh Chang. Koh Kut, the second biggest island in the Koh Chang group, and the fourth largest in Thailand, is mountainous and heavily forested over half of its land area.
There are several fine waterfalls on the island with coastal coconut groves and excellent beaches on the west coast. Originally developed for package Thai holiday groups, the island has recently become popular as a foreign tourist destination.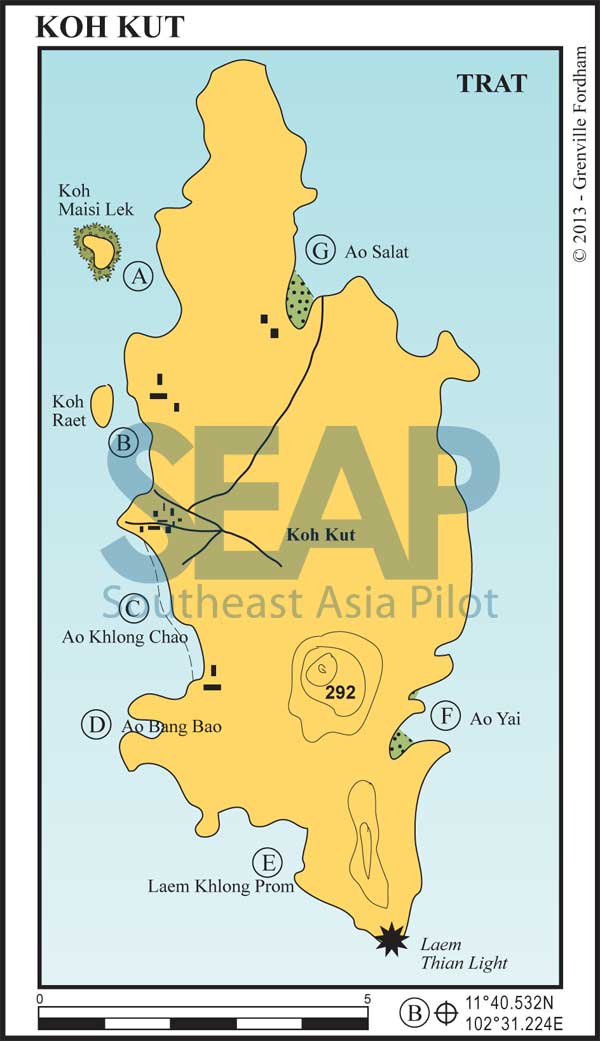 KOH MAISI LEK
31 miles from Ao Khlong Son
KOH MAISI LEK & SONEVA KIRI. 11°42.411N, 102°31.847E
This island protects the bay on the NW end of Koh Kut. Beware the rock in the northern channel between Koh Maisi Lek and Koh Kut and anchor in 10-13 metres in the centre of the bay.
This makes for excellent year-round holding with spectacular views and beaches. There is a small bungalow resort and minimart ashore.
The top of the hill that forms the island of Koh Maisi Lek has been levelled to provide a private airstrip servicing the luxury Soneva resort to the south on Koh Kut. This is unlikely to increase inbound traffic as it is only suitable for light aircraft. The Soneva resort is now open but does not welcome visiting yachtsmen.
KOH RAET
3 miles from Koh Maisi Lek
KOH RAET. 11°40.532N, 102°31.224E
Further south, Koh Raet provides similar protection for the bay and makes for a good year round anchorage. Anchor in 6-7 metres off the Captain Hook Resort, which has a dinghy jetty. In the southwest season, if the swell gets uncomfortable, move to the lee of Koh Raet. There's no passable channel between Koh Raet and Koh Kut.
The mooring in the bay is for yachts wishing to fill water tanks, but ask the staff to explain the procedure. The dive mooring on the southeast of Koh Reat marks the 'Temple Statues' dive where the bottom is littered with these relics.
Fireflies can be seen in the small creek that leads to a waterfall from the Baan Manok Resort restaurant.
AO KHLONG CHAO
6 miles from Koh Maisi Lek
AO KHLONG CHAO. 11°37.727N, 102°32.492E
Sufficient protection here during the northeast season. The best spot is in 5 metres on sand off the mouth of the khlong in the centre of the bay. One of Koh Kut's larger rivers enters the ocean here.
Up river beyond the bridge is a small wooden jetty with a 20-minute walking track to a jungle waterfall and plunge pool. The falls run best from November to March and comes with toe-nibbling-fish and a rope swing.
Read more
Click to view Thailand photo gallery.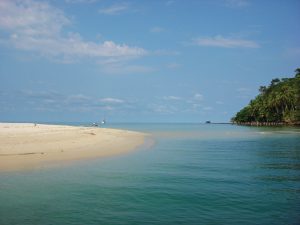 AO BANG BAO, KOH KUT
8 miles from Koh Maisi Lek
AO BANG BAO. 11°36.750N, 102°31.975E
Anchor in 5-6 metres on sand in this pretty bay. Ashore there are three resorts, each with their own jetties, and a small village with restaurants and local styled shops. Crystal clear water and fine white sand characterise this bay.
LAEM KHLONG PROM
12 miles from Koh Maisi Lek
LAEM KHLONG PROM. 11°35.531N, 102°33.186E
Anchor in 5 metres on sand off a long white sand beach backed by casuarinas and sand dunes.
An outstanding spot with a small resort, with a jetty, that's sure to be snapped up in the near future for a luxury resort.
There's a small road that crosses the island and the western corner of the bay has a few shops and very local cafés around the entrance to a sizeable river. The river is navigable by dinghy for two miles and leads to a large monastery and temple complex well hidden in the jungle. This is a 'National Geographic worthy' trip.
AO YAI
17 miles from Koh Maisi Lek
AO YAI. 11°36.575N, 102°35.549E
Anchor in no less than 8 metres just north of the village, which boasts a small resort and a few restaurants on stilts. Ao Yai is the closest haven for Thai and Cambodian fishermen from the border and caters to the karaoke needs of those that have been at sea for weeks. A very interesting spot indeed…
AO SALAT
7 miles from Koh Maisi Lek
AO SALAT. 11°42.542N, 102°34.205E
The east side of Koh Kut offers limited protection during the southwest season and little of interest to sailors. Ao Salat supports a significant fishing community of various nationalities but does not make for a good anchorage.
Click to view Thailand photo gallery.
See also: