Koh Ngam to Koh Mak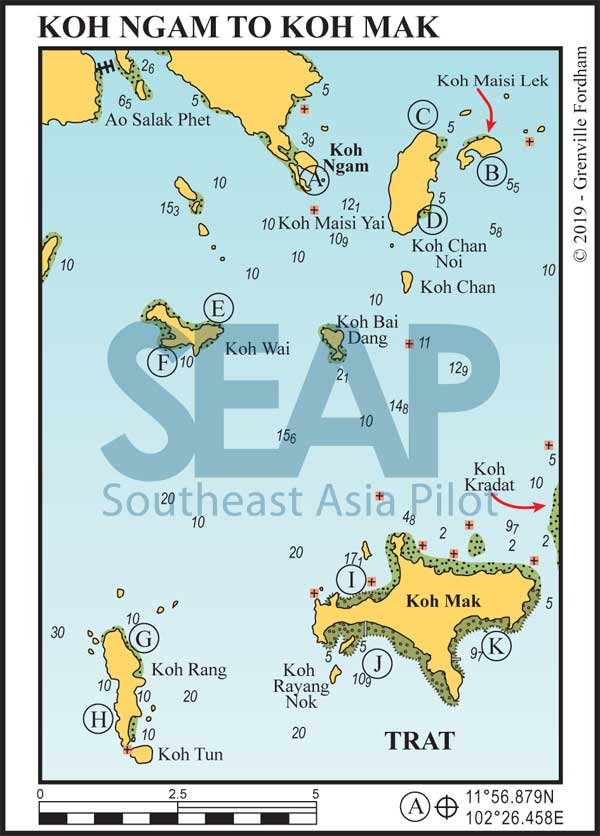 Koh Kradat
This island (named after the paper trees which used to be harvested here by the French) lies amidst a large area of shallow water with coral outcrops.
Koh Kradat is essentially not approachable by keelboats or powerboats, although longtails do land on it and it is approachable with care by dinghy. This is a privately owned island and has one small resort.
This almost flat island with a small hill rising in the centre has grasslands and is populated by a herd of wild deer, supposedly introduced by the French when they owned the island before King Rama V purchased it back from them over 100 years ago.
KOH NGAM
16 miles from Ao Khlong Son
KOH NGAM. 11°56.879N, 102°26.458E
Often referred to as Koh Chang's Phi Phi island, the two peaks are bridged by a palm tree scattered sandy spit that delivers the idyllic tropical island scene. The bay on the southeast side makes for a great day mooring, but the shape of the island can cause turbulent winds.
This Island is part of the national park, hence there are no facilities. However, there is a completely deserted abandoned resort. Leaving the bay, steer well clear of the dangerous rock just to the south until in more than 10 metres depth.
Click to view Thailand photo gallery.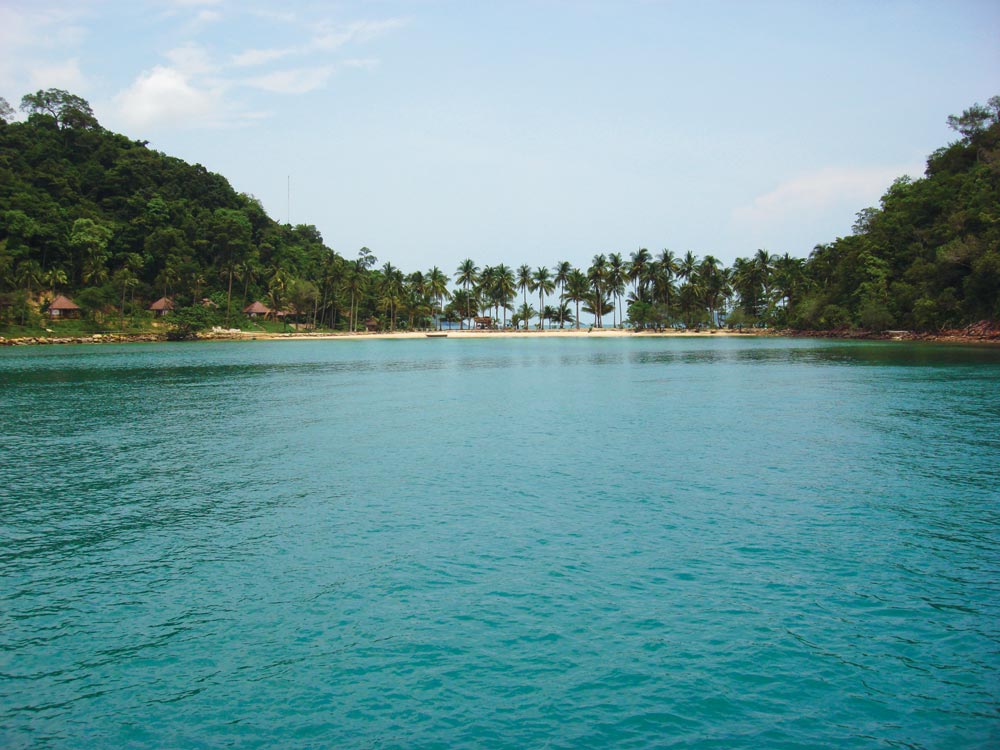 KOH MAISI LEK
18 miles from Ao Khlong Son
KOH MAISI LEK. 11°56.988N, 102°29.712E
Good protected overnight mooring on the southeast side of the island. Ashore is a small fishing community but no facilities.
KOH MAISI YAI
18 miles from Ao Khlong Son
KOH MAISI YAI. 11°55.993N, 102°28.622E
Beaches on the east side of the island are protected during the southwest winds and make for good overnight mooring. There are several resorts dotted along the coastline but access ashore is very difficult at low tide. The northernmost beach on the east side has a small bungalow resort.
KOH WAI
18 miles from Ao Khlong Son
KOH WAI (E). 11°54.207N, 102°24.494E
KOH WAI (F). 11°53.717N, 102°24.240E
This is a beautiful island, one favoured by local sailors and fishermen seeking shelter. The bay on the northeast side offers good protection in the southwest season and makes for a great overnight anchorage. Anchor in 8-10 metres off the Paradise Resort. Good for a lunchtime stop in northeast season, but does get busy with day trippers at peak times – but they leave late afternoon.
Read more
Click to view Thailand photo gallery.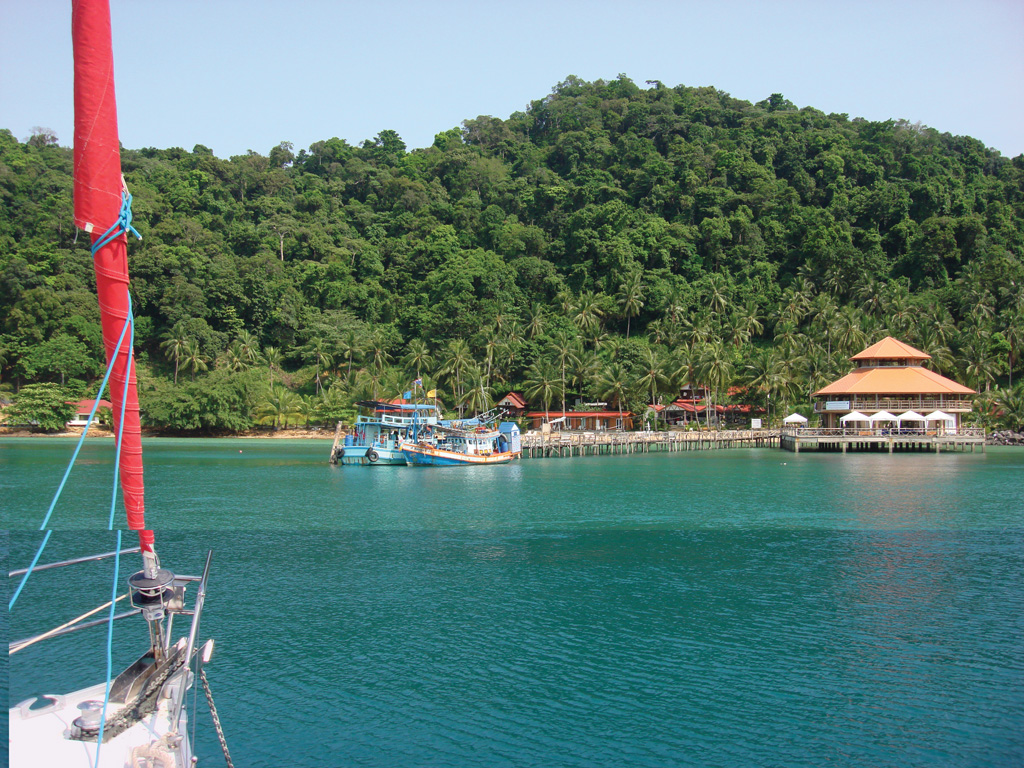 KOH RANG
20 miles from Ao Khlong Son
KOH RANG (G). 11°48.211N, 102°23.413E
KOH RANG (H). 11°47.089N, 102°23.052E
Another favourite of local sailors, the northern tip offers good overnight anchorage during the southwest season. Nice beaches surrounded by small islands and rocky outcrops make for a great view and excellent snorkelling.
Koh Rang is a part of the national park and offers limited daytime facilities. Entry to the national park is 400 baht.
South of (G), in the indent at 11°47.936N, 102°23.532E, is the National Park Headquarters with floating dock, snack shop and water hose. Anchor in 6-10 metres on sand and take your dinghy to the dock.
Read more
KOH MAK
22 miles from Ao Khlong Son
KOH MAK (I). 11°49.196N, 102°27.347E
KOH MAK (J). 11°48.487N, 102°27.523E
This is a large, very flat, island that has been inhabited for over 100 years. The favoured mode of transportation is by bicycle, motorbike or foot, which makes for a pleasant atmosphere. Local ferries deliver passengers to the numerous resorts scattered around the island with the main beach at (I).
( I ).The large bay on the northwest side of the island has good protection, although in depths less than 7 metres you may encounter coral heads. Anchor NW of the village pier in 5-7 metres for a short walk behind the resort to local artist Somchai's house, where the grounds display his sculptures and are open to visitors.
Read more
Click to view Thailand photo gallery.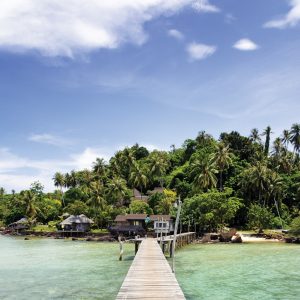 KOH MAK SOUTH EAST
22 miles from Ao Khlong Son
KOH MAK SOUTHEAST. 11°48.147N, 102°29.614E
Anchor in 8-10 metres southeast of Ao Tar Nid commercial pier. There's a large coral outcrop just off the centre of the beach.
See also: