Pattaya & Koh Larn
60 years ago, Pattaya was a sleepy little fishing village. Then came the Vietnam War and the incursion of thousands of young American GIs in search of rest and recreation.
The area grew at such a pace, with both Thai and foreign tourists, that the government promulgated the Pattaya City act in 1978, thereby joining Naklua and Pattaya to form the fifth local government municipality. Thus Pattaya City was born with an ever-increasing influx of visitors and residents from the burgeoning surrounding industrial estates.
[read more]
The latter use this whole stretch of coast as an escape from the city, resulting in overcrowded beaches and hotels every weekend and during school holidays. The 10-kilometre stretch of grossly overdeveloped coastline from Pattaya to Jomtien has also gained a reputation for its wild nightlife. Surprisingly, perhaps, Royal Varuna Yacht Club (RVYC) and Ocean Marina, just south of Jomtien, are havens of relative tranquillity.
Royal Varuna Yacht Club holds regular yacht racing for large and small sailing boats, while Ocean Marina Yacht Club organises regular cruising weekends to the offshore islands as well as regular weekend racing.
In May each year, the Top of the Gulf Regatta is held at Ocean Marina, attracting yachts from Hong Kong and Singapore as well as the Gulf Coast. Each November the marina stages the Pattaya Boat Show.
[/read]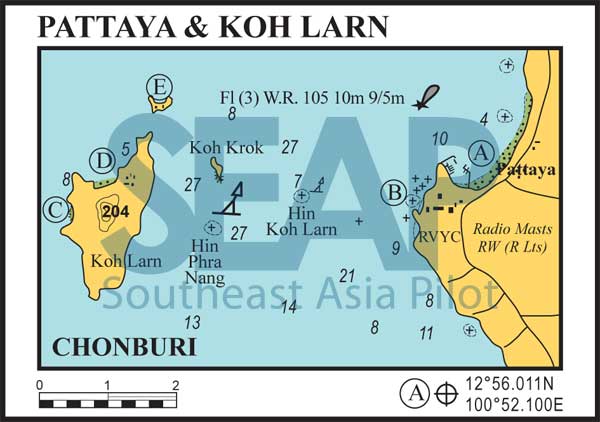 NOTE: On the passage from Koh Larn to Pattaya, avoid the area around Hin Koh Larn, about 1.5 miles east of Koh Krok. Do not rely on the marker buoy, which is frequently washed away or which drags during rough weather. Anchoring at Koh Krok, a private island, is not permitted.
SOUTH PATTAYA BAY
206 miles from ao Nathon, Samui
SOUTH PATTAYA BAY. 12°56.011N, 100°52.100E
This anchorage is secure only in the northeast season. Good holding can be found in 4-5 metres a quarter mile north of the gap between Bali Hai Pier and the speedboat marina breakwater. At the time of writing this spot was far enough south to be safe from the dozens of parasailing speedboats running from the many anchored pontoons during the day.
The breakwater running from the south point protects a shallow speedboat marina, but it's better to dinghy to the beach just east of the Bali Hai Pier. The pier is the main departure point for all kinds of boat activities and high volume island runs.
[read more]
There's plenty of action ashore here, particularly at night, with countless bars, restaurants and more along the colourful and noisy strip. Evening entertainment can be found along the famous Walking Street in the south corner.
With so many parasails in the air during the day, it seems like absolute chaos, but watch closely – it's organised chaos. If it's too much for you, it's far less stressful during the day three miles northeast, around the point at Naklua Bay where anchorage can be found at a comfortable depth on sand closer to the beach.
[/read]
ROYAL VARUNA YACHT CLUB
2 miles from South Pattaya Bay
ROYAL VARUNA YACHT CLUB. 12°54.762N, 100°51.202E
Anchor only in settled weather and only near the two mooring buoys at the southern end. Stay well clear of the rock awash in the middle of the bay.
This anchorage is not recommended for overnight stays. There is often a shore break, which can upset a small tender and, during the northeast season, the beach can be depleted of sand.
The Royal Varuna Yacht Club house offers good facilities, including a bar, a restaurant and a swimming pool. Visiting yachtsmen are warmly welcomed, but be sure to register with a committee member. Good road links into the city.
WEST KOH LARN (HAAD TIEN)
7 miles from South Pattaya Bay
WEST KOH LARN (HAAD TIEN). 12°55.032N, 100°46.052E
This pretty anchorage in 5-8 metres on sand is recommended only as a day stopover – a place for swimming or lunch ashore at the restaurants on Haad Tien. There's a concrete walkway around the rocks both ends of the beach.
Good snorkelling can be found along the outer edge of the reef that fringes the beach. Further south around the small headland is Samae Beach with dozens of bungalow resorts and restaurants ashore.
NORTH KOH LARN (HAAD SAMWAN)
6 miles from South Pattaya Bay
NORTH KOH LARN (HAAD SAMWAN). 12°55.526N, 100°46.585E
Good holding can be found in 5-10 metres on a sandy bottom, lending protection in the southwest season. The sand beach makes for convenient dinghy access to the many hotels and restaurants ashore.
A very popular daytime destination for the tour boats operating out of Pattaya. Numerous speedboats and even a yellow submarine operate from the commercial jetty in the bay.
KOH SAK
5 miles from South Pattaya Bay
KOH SAK. 12°56.685N, 100°47.525E
This small horseshoe-shaped island facing north has a well-sheltered bay in the southerly season. Anchor in about 4-6 metres on a sandy bottom in clear water off the fringing coral reef.
Swim ashore on Koh Sak to a basic seafood restaurant and beach chair vendors. The island used to be an exclusive resort for Thailand's rich and famous, though it's now rather rundown. On the footpath leading south from the beach, you'll see the foot and hand prints of many famous visitors, including Neil Armstrong's and some old Hollywood legends.
See also: