Koh Hong Group, (Phang Nga)
Koh Hong Tunnel
This hong (thai for room) can only be entered by dinghy or small motorboat from the shallow lagoon at high to middle tide, or else from the open-water entrance on the southwestern corner of the island at low tide.
The hong, which gives the island its name, is a stunningly beautiful, enclosed pool with a large chimney opening to the sky. Once inside, you will find perfect opportunities for photography, relaxing or exploring. Entering from the east spot the dog rock formation.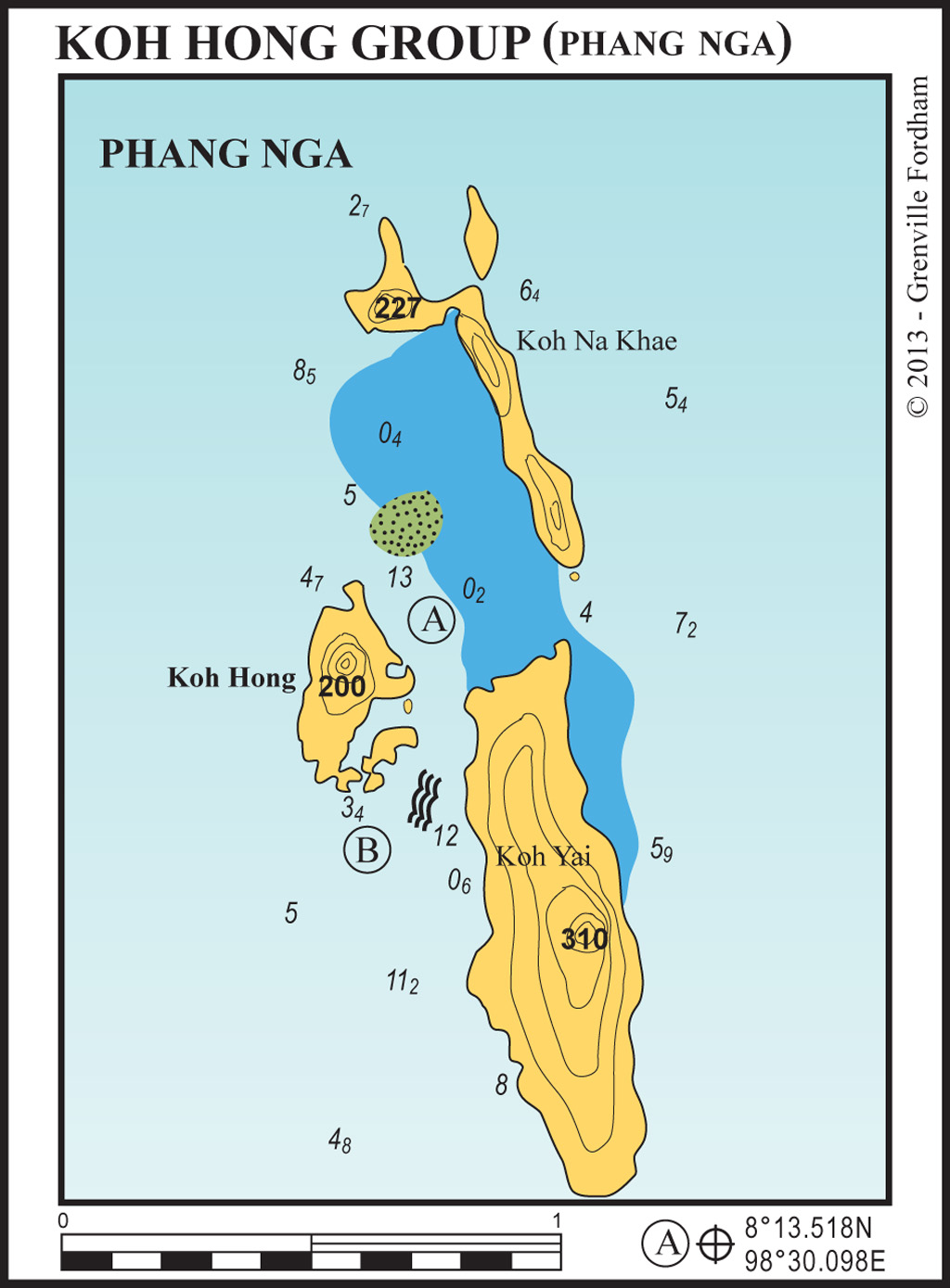 KOH HONG, PHANG NGA
16 miles from Yacht haven
KOH HONG, PHANG NGA (A) 8° 13.518N, 98° 30.098E. (B) 8° 13.162N, 98° 30.035E
The best anchorage in this group of islands (a) lies between Koh hong and the shallow water to the west of Koh Na Khae. Suitable for both seasons, this very picturesque anchorage has good holding in approximately 12 metres on a muddy bottom, and gives easy access to Koh hong to explore by dinghy.
Please take a set of paddles in your dinghy so you don't have to run your outboard engine whilst inside the hong.
Just south of Koh hong (B) is another anchorage in 4-5 metres on a muddy bottom, directly outside the small cave that opens into the lagoon. Both these anchorages are very busy with day trips and sea canoe tours coming and going during the day.
If swimming in these channels beware of strong currents, particularly during spring tides. There is a National Park station on Koh Yai and it is likely the ranger will approach and ask for the park entry fee, currently 500 baht per person.
Care ought to be taken, if heading north from this location, to keep well clear of the shallow bank to the west of Koh Na Khae.
The passage between Koh Yai and Koh Na Khae is not recommended for any but shoal draft vessels. Yachts proceeding east from this group should pass north around Koh Na Khae or south of Koh Yai.
See also: