North Phang Nga Bay
The sheer-sided sea mountains that rise vertically out of Phang Nga Bay form some of thailand\'s most spectacular scenery. Images of Phang Nga have travelled the world and shaped perceptions of southern thailand and the boating experiences to be had here.
As a result the cruising yachtsman may encounter many tour boats with sea canoes during the middle hours of the day, but tranquillity does return by late afternoon.
While the bay itself is not large, the number of islands, inlets and mangrove channels to be explored ensure that no matter how long a yachtsman spends here, new experiences will always be nearby. We list only 21 of the many anchorages in this area. Much of the joy of sailing in Phang Nga Bay, after all, lies in discovering the uncounted creeks, caves and coves for yourselves.
Most islands are uninhabited, offering secluded anchorages under soaring cliffs fringed with jungle, as well as fascinating dinghy expeditions to hidden beaches, caves and creeks not shown on charts or maps. The famous features of this bay are the hongs ? thai for room. These shallow-water fully enclosed lagoons open to the sky are only accessible through caves at certain stages of the tides. If youve seen the movie the Beach… that hong was CGi generated. these ones are spectacularly real.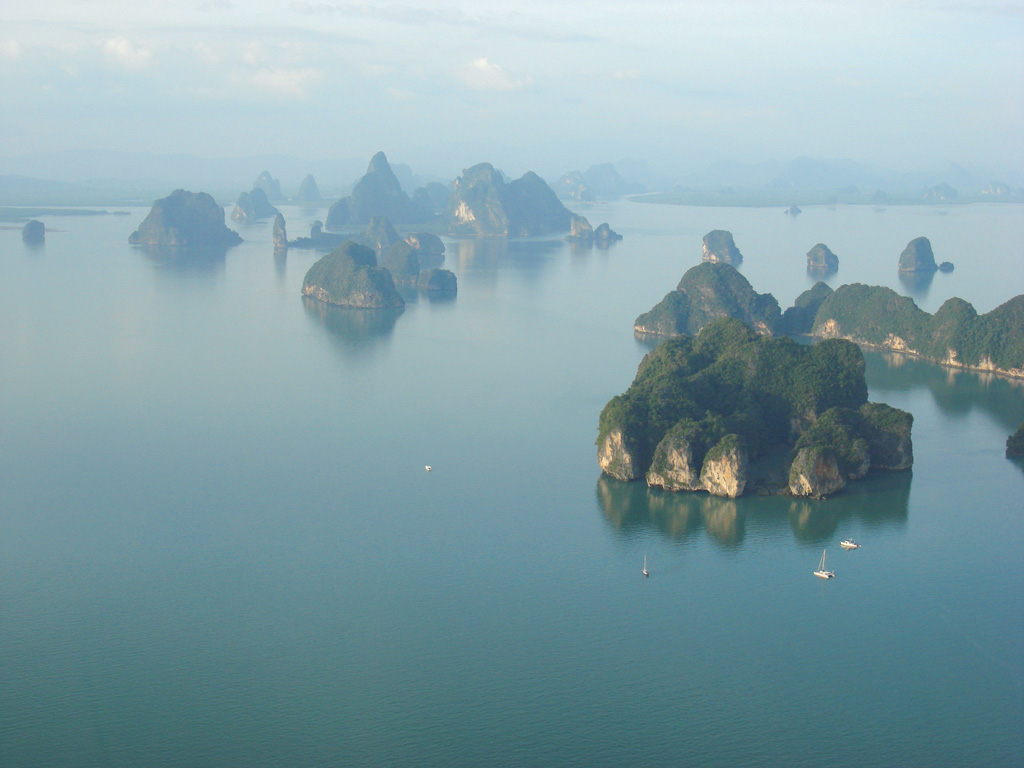 Do not under any circumstances run dinghy engines in the caves or hongs. The two-stroke petrol fumes and noise can play havoc with the bat population and other elements of these delicate and otherwise unspoiled ecosystems.
Three rivers run into the head of the bay so the water is silty, though otherwise clean, forming a milky green backdrop to the striking scenery.
Since a large part of the area north of Koh Yao is shallow (less than 10 metres), it is possible to anchor virtually anywhere in north Phang Nga Bay. This chapter, then, focuses only on the more suitable overnight anchorages ? those providing shelter from the squalls and storms which can hit unexpectedly, particularly in the southwest monsoon season.
Some of the area covered by this section is National Park and Rangers patrol around the islands. the entry fee is currently 500 baht per day per person on board, which is collected in cash on the spot.
See also: