Koh Roi & Koh Kudu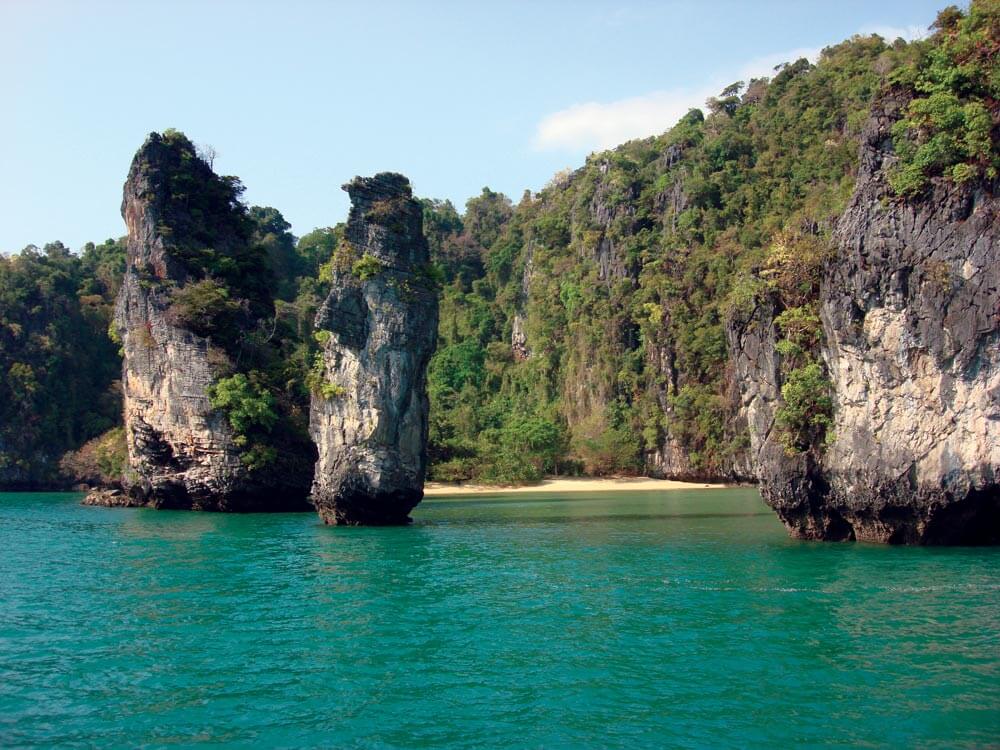 The Koh Roi / Koh Kudu group of islands, part of the Ao Phang Nga National Park, affords good shelter in both seasons and makes a useful stopover when heading south for Krabi.
If approaching from the north or west end of Phang Nga Bay, beware of the shallow area and drying rock marked on the chart as Hin Mot Daeng, which lies athwart the direct route and has a beacon built on it.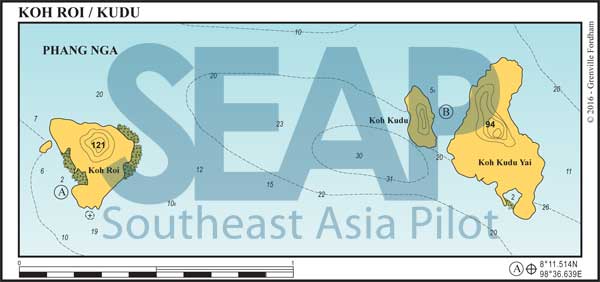 KOH ROI
19 miles from Yacht haven
KOH ROI. 8°11.540N, 98°36.639E
Anchorage can be found in a small southwest facing bay with a rocky, off-lying islet on the north side. The bay is deep until close in and vessels can anchor in about 8-12 metres on a muddy bottom with some rock.
Several hundred metres to the west the water is generally shallow and the approach should be made close to the island. A great anchorage in the northeast season and reasonable in the southwest season.
There are two beaches and a large, attractive hong can be entered on foot at all but high tide from the west beach. Fringing coral prevents access to either beach at low tide. This island marks the limit of VHF radio communication with Phuket, before Koh Yao Noi masks it.
Click to view Thailand photo gallery.
Rocks in the channel
The rock just off the southern point of Koh Roi is a danger to deep draft vessels. Beware.
KOH KUDU YAI
20 miles from Yacht haven
KOH KUDU YAI. 8°11.697N, 98°38.029E
There is an excellent anchorage for all seasons nestled between the two islands in 5-8 metres on a muddy bottom although winds can be funnelled between the islands causing a slight chop.
The larger island has interesting caves and hongs to explore by dinghy. The hong on the southern point can be accessed by small speedboats at most tides. The shallowest point is at the entrance but once inside shallow draft vessels can anchor overnight. Sailing yachts are advised not to try to enter; many have found themselves on the bottom.
See also: