Koh Siray
Approaches to Koh Siray
Passing north of Koh Taphao Noi, proceed to the first channel marker. Head towards the second channel buoy, then proceed directly to the headland east of the river entrance. Coming from the east, stay close to Laem Phap Pha to join the channel markers north of the drying bank.
There are leading marks on shore but this channel is constantly moving, and the best advice we can give is to negotiate the entrance on a three-quarter tide rising and, if possible, follow a large fishing boat in the river. There is a light on Laem Tukkae but this approach is inadvisable at night without local knowledge. Once in the waterway, the depth is adequate for most vessels, but the number of boats tied on each side of the river severely restricts its navigable width.
Diesel fuel in large quantities, water, ice and provisions are available at the fishing port and at the shipyards further upstream on the left and on the right.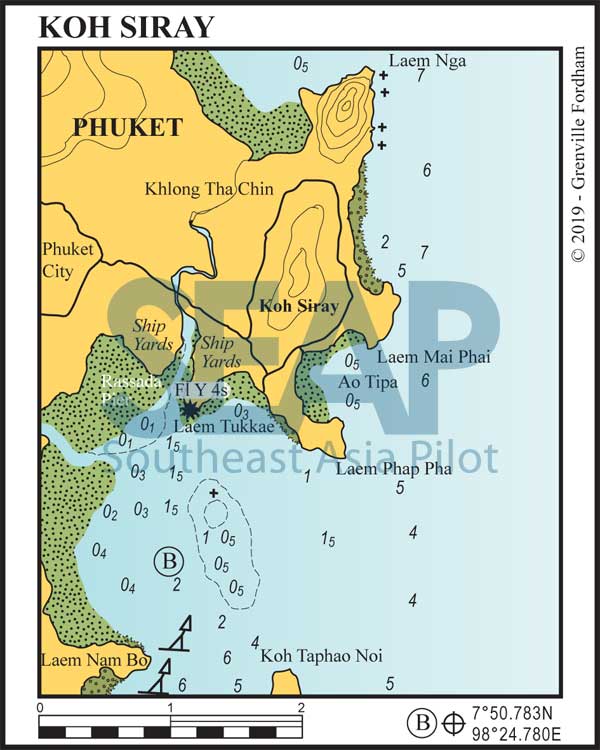 KOH SIRAY: PHUKET RIVER AND SHIPYARDS
8 miles from Ao Chalong
KOH SIRAY: PHUKET RIVER & SHIPYARDS 7°50.783N, 98°24.780E
On the eastern tip of the southern part of Phuket, separated from the main island by a small river, the area's main fishing depot – Koh Siray – gives access to the island's main commercial shipyards. These yards mostly take care of local fishing vessels and shallow draft tour boats, but after several years experience, they are able – and have the facilities – to handle keelboats. Appropriate cradles are available but bookings must be made in advance.
A photograph or plan of your underwater hull shape will assist the yard foreman in safely slipping your boat. All yards offer electricity, water and transport to town.
If you decide to slip your boat in the local yards, consider seeking advice from one of the marine services companies for the best options. Many projects are under way in the yards, which may be of interest to boat building enthusiasts.
Close to the river bridge (town side) is Tien Sin Pier, where ferries depart for Koh Yao Yai twice daily. At the entrance to the river on the west side, on reclaimed land, is the Rassada passenger terminal, with ferries to Phi Phi and Krabi.
See also: