Koh Khai Group
East of Koh Sirey, en route to Koh Yao Yai, is the Khai Island Group. The first is Koh Kai Nok, just five miles offshore and Koh Kai Nai a further two miles. These islands are easily accessible from all the main Phuket marinas as a day trip destination and have good snorkelling and clear water, unlike further north in the bay.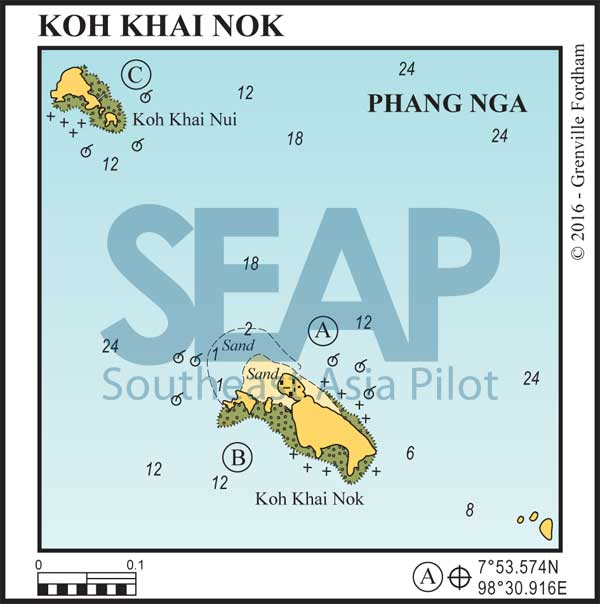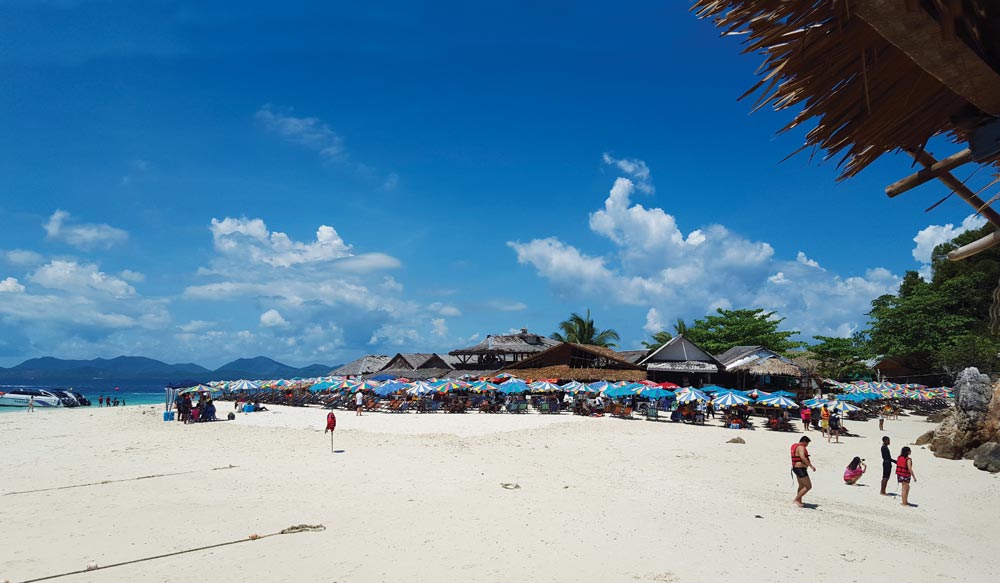 KOH KHAI NOK EAST
13 miles from ao Chalong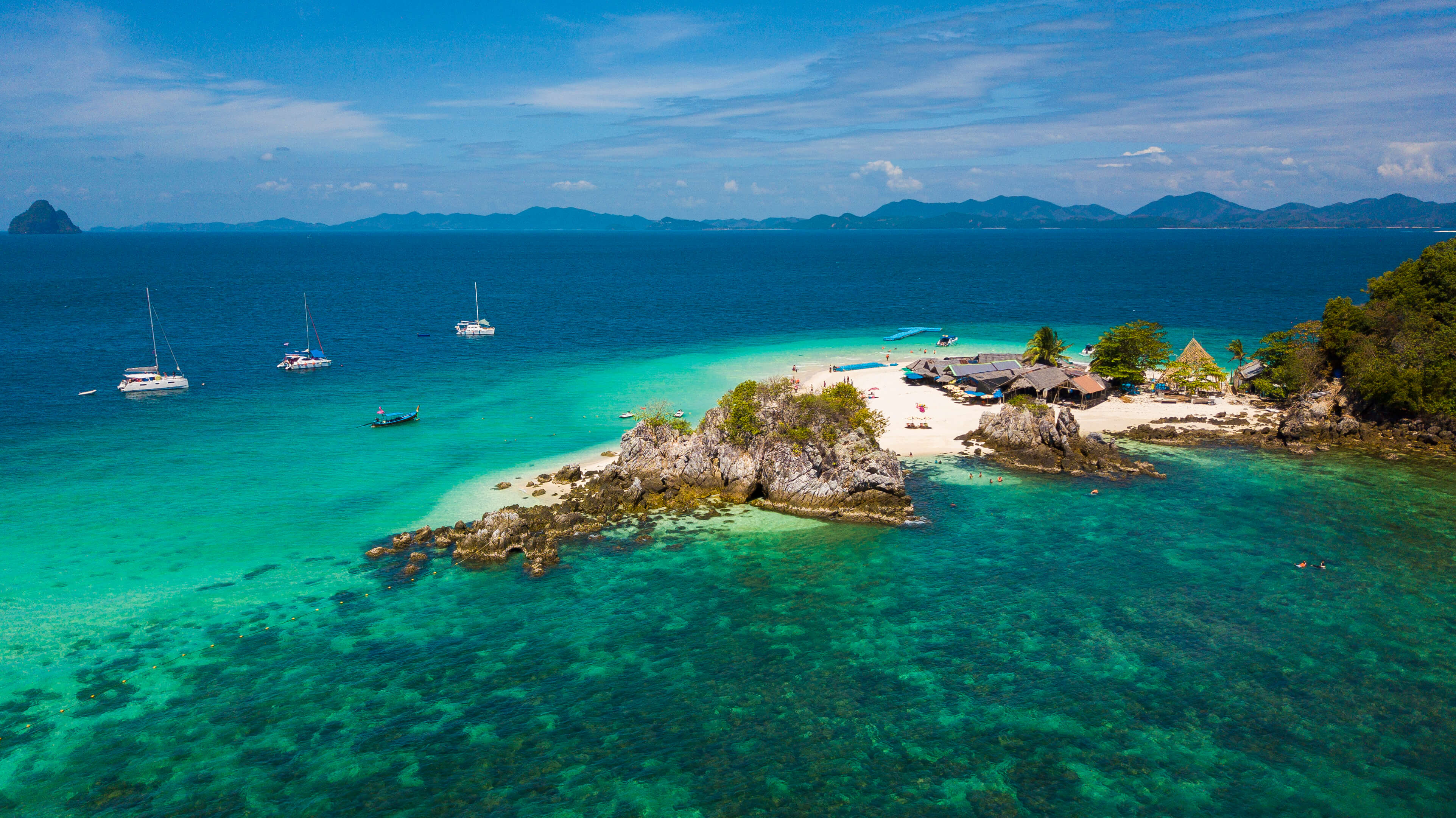 KOH KHAI NOK WEST
13 miles from ao Chalong
KOH KHAI NOK (A) 7°53.574N, 98°30.916E. (B) 7°53.432N, 98°30.848E
This is a great daytime anchorage. The brilliantly white, all-tide beach on its northern end can be seen from miles distant.
Anchor in 15-20 metres and be careful, as the bottom rises very quickly onto a sandy ledge scattered with coral heads. Or, preferably, pick up one of the many orange moorings that are safe for daytime usage. In either monsoon season, you will find a couple of places to tuck in close to avoid the occasional ground swell, which can occur in this open anchorage.
A wide variety of fish and corals make this island a favourite for scuba divers and snorkellers at slack water and neap tides. An excellent day destination for families because of the small cove teeming with brilliantly coloured sergeant major fish, which will feed from your hand — although fish-feeding is now illegal.
By far the busiest destination for speedboat trips from Phuket, there is a daytime restaurant on the beach. A 200 baht fee per boat and 40 baht per non-Thai visitor are levied by the local council for visiting vessels. There is also a 150 baht charge per couple for deck chairs, whether you use them or not! Take your wallet. (None of this applies at the time of posting due to Covid-19 impact.)
Click to view Thailand photo gallery.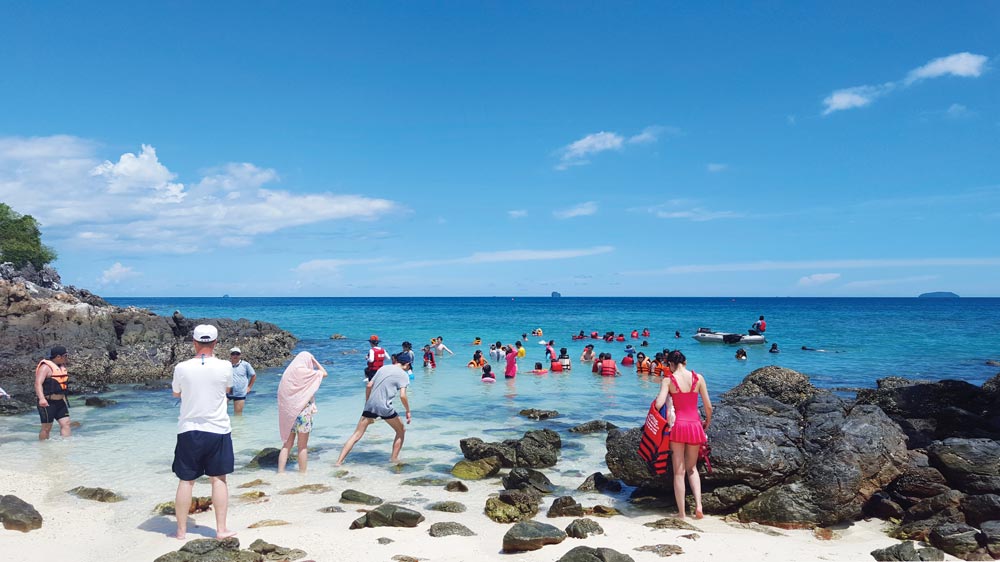 KOH KHAI NUI
14 miles from ao Chalong
KOH KHAI NUI. 7°53.840N, 98°30.692E
To the northwest of Koh Khai Nok, this islet has moorings and hosts the excellent stilted restaurant Chokdee, tucked into the rocks. There's a dinghy jetty and snorkelling along the reef edge is superb. Anchor off the reef in 15-20 metres either side – depending on conditions.
KOH KHAI NAI
15 miles from ao Chalong
KOH KHAI NAI. 7°54.564N, 98°33.000E
This is another very popular day trip destination for speedboat package tours from Phuket. The small islet offers a great daytime anchorage in 8-10 metres off the sandy point to the northeast.
Snorkelling and diving are best on the seaward edge of the fringing reef on the northeast side the island.
There's also an all-tide access beach on this end of the island. Alternatively, good overnight anchorage can be found anywhere on the West Coast of Koh Yao Yai when the northeast monsoon prevails.
At the time of posting, most of the moorings had become tangled with the remnants of the broken floating jetty. The island was deserted and without former basic amenities.
See also: