West of Bali
The route between Bali and Singapore is locally known as 'the slog' – definitely not famous for its scenic cruising. Java Island is one of the most densely populated areas on the planet, with over 100 million people living there.
To the northeast, the island of Kalimantan (Borneo) is dealt with in the Equatorial region. It's a little off the direct route, but certainly has some interesting cruising if you have the time.
Here, we cover only the major ports that could be used as stopovers or emergency shelters on the route up to thriving Singapore.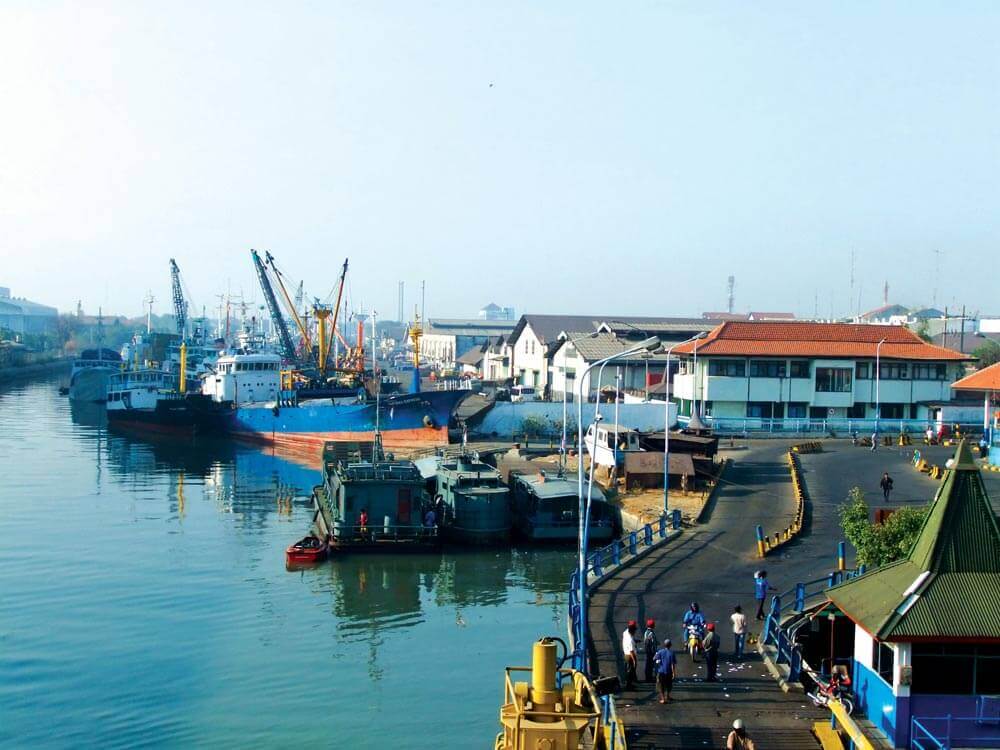 SURABAYA
760 miles from Singapore
SURABAYA. 7°14.188S, 112°47.825E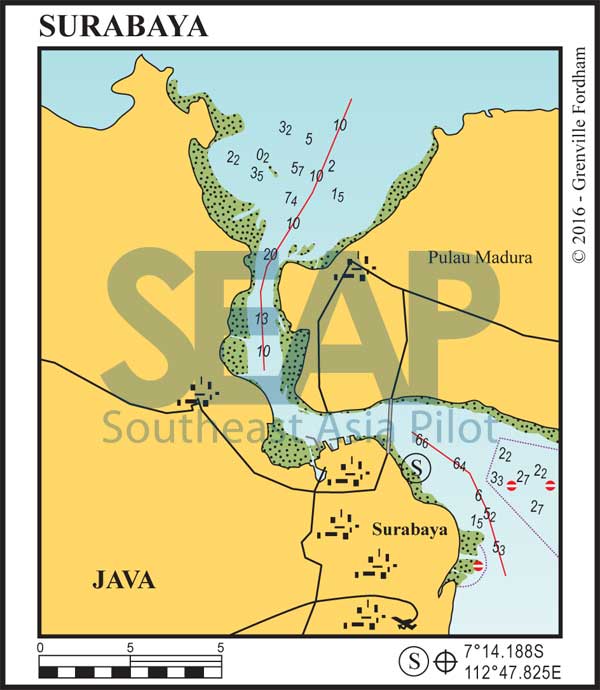 Surabaya (Dutch Soerabaja) city is at the mouth of the Mas River. It is the second largest city in Indonesia and the capital of East Java province. A major seaport and one of the chief commercial and trading centres of Asia, Surabaya is the terminus of a railway and highway that connect it to other Javanese cities.
The main city anchorage, anywhere in 8-12 metres, is in what is known as the 'roadstead' – an open harbour protected by nearby Madura Island. The huge commercial harbour is enclosed by breakwaters and contains floating docks and numerous quays, wharves, and storage warehouses.
Our recommended location is in shallower water east of the bridge outside Kenjeran Beach, where a high tide jetty is available for dinghy transfers. Anchor a half-mile east in 3-8 metres on the mud outside the sand breakwater's 20-metre opening. The long wooden jetty just inside is only approachable at high tide and gives access to this bustling and industrial port city.
Although hectic and dirty, there are many boatyards, catering for domestic vessels, and plenty of general workshops. The most amazing sight in the city is the vast Phinisi docks where dozens of these traditional vessels' bows are tied alongside each other connected by long walking planks to the main town docks.
Surabaya has limited facilities for visiting cruising yachts and theft has been a past problem in the main harbour. We mention it here for emergency shelter close to a thriving well-connected city, until a suitable yacht facility comes online.
BATAVIA MARINA
2 miles from Pertamina (Phinisi) Basin
BATAVIA MARINA. 6°07.188S, 106°48.829E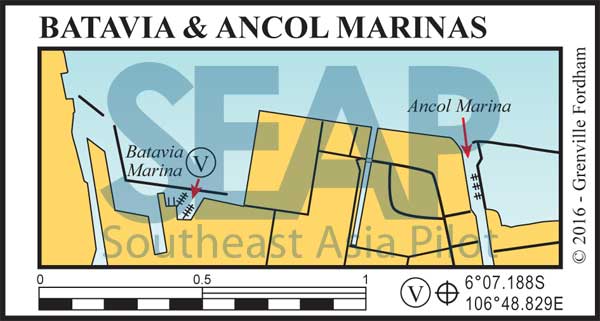 Just a mile east of Pantai Mutiara, and a mile inside the long dock into Jalan Maritim Raya, is Batavia Marina, Jakarta's first operating marina with a small hotel attached. The waypoint for the start of the channel entrance is at 6°07S, 106°49E at the port and starboard marks.
Best to approach at high tide with good light since there are some 1.8 metre shallow spots on the path at low tide. The bottom is very soft and easy to push through until into 3 metres depth again. Turning hard to starboard, you'll find two floating berths that serve four vessels up to 37 metres and a dozen under 20 metres. It is advisable to make reservations well in advance. VHF Ch.69 www.bataviamarina.com
Alternative last resort shelter can be found at Ancol Marina at 6°07.096S, 106°49.715E a mile further east of Batavia Marina. This is a 75-metre-wide concrete revetment channel with dozens of speed boats and passenger ferries tied to small fingers along the east side for about a half a mile. It's got 3-5 metres at low tide and is very sheltered but it's tight and the sheer amount of boat traffic can be too much. No contacts to book in advance at the time of writing.
SEMARANG
600 miles from Singapore
SEMARANG. 6°57.259S, 110°25.375E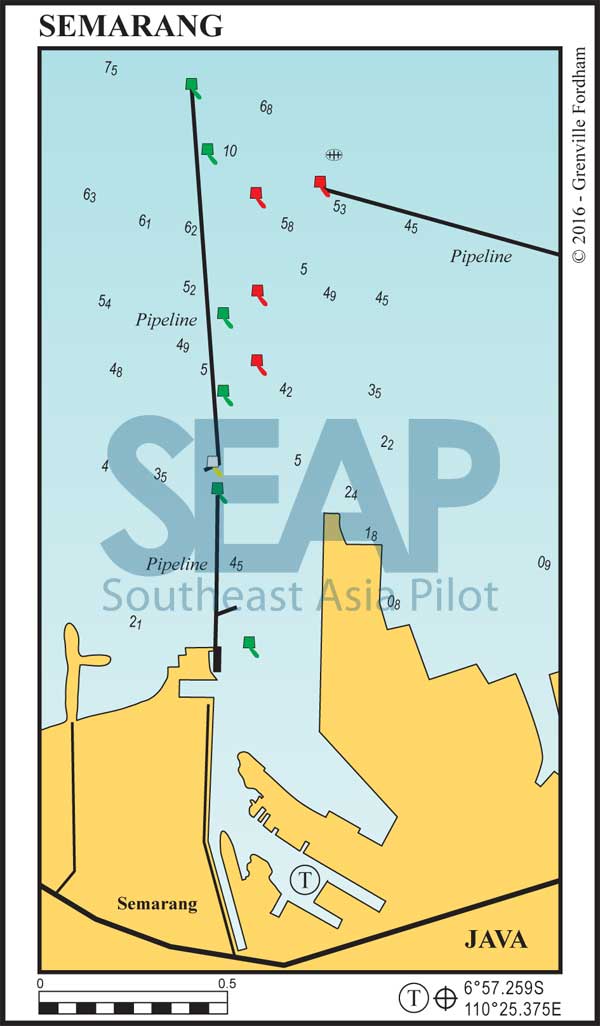 Semarang is the capital of Central Java Province and the Tanjung Emas harbour serves hundreds of commercial freight and passenger ships.
Best protection for yachts is inside the Phinisi Harbour past Tanjung Mas in the square basin, tied alongside one of the dozen traditional vessels. The well-marked channel starts two miles offshore and runs down the elevated north-south pipeline.
Call 'Port Captain' on VHF Ch.16 on entry for helpful directions. Favour the west side to turn into the second bight concrete revetment basin. If you prefer not to tie alongside a Phinisi, anchorage is available in 8-10 metres on a thick oily black mud.
Water, fuel and provisions are readily available and the city centre with daily fresh markets is nearby. This industrial harbour with a ton of character is another home for several dozen traditional Indonesian Phinisi vessels tied with bows toward the docks. Take your camera.
JAKARTA – PANTAI MUTIARA
540 miles from Singapore
PANTAI MUTIARA & PERTAMINA (PHINISI) BASIN. 6°5.761S, 106°48.098E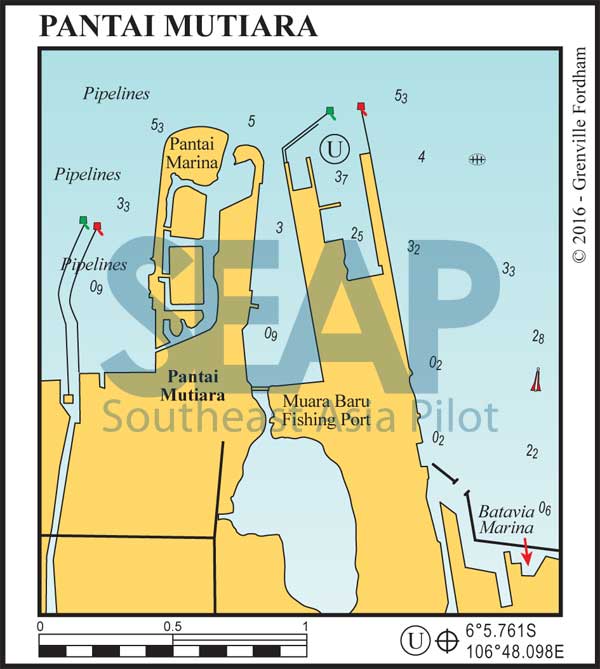 Jakarta, the thriving capital of Java and Indonesia, is home to Tanjong Priok Harbour, the busiest commercial port in the region.
The Pantai Mutiara Marina at 6°05.803S, 106°47.751E was 'out of action' at the time of writing with the entrance silted up. This was a relatively new residential canal and marina development comprising four docks with fingers. It seems their entrance bathymetric, hydraulic and siltation feasibility studies were incorrect, ignored or just not done.
For now, and until Pantai reopens with manageable depths, it's better to anchor close by in the Pertamina (Phinisi) Basin in 5-8 metres or tie alongside another boat.
See also: