Bang Tao Bay
Approaching from the south, watch out for the large rock shown 150 metres off the headland on the chart. If it's visible, vessels can pass close on either side, as there's 10 metres of water all around. At high water, however, give the headland a wide berth and proceed well north before turning into the bay.
Bang Tao is home to Asia's first fully integrated resort and villa complex, Laguna Phuket. This 4-mile beach is home to five resorts built around fresh-water lakes. Before 1989, most of the area behind the beach was a cratered wasteland, having been seriously degraded by tin mining operations.
Ashore, both north and south of Laguna, there are several restaurants and bars that have sprung back up since the government's drive to remove commercial activity from Phuket's beaches. As a rule of thumb, the southern places (Catch Beach Club is an exception) are more low key than those north of Laguna.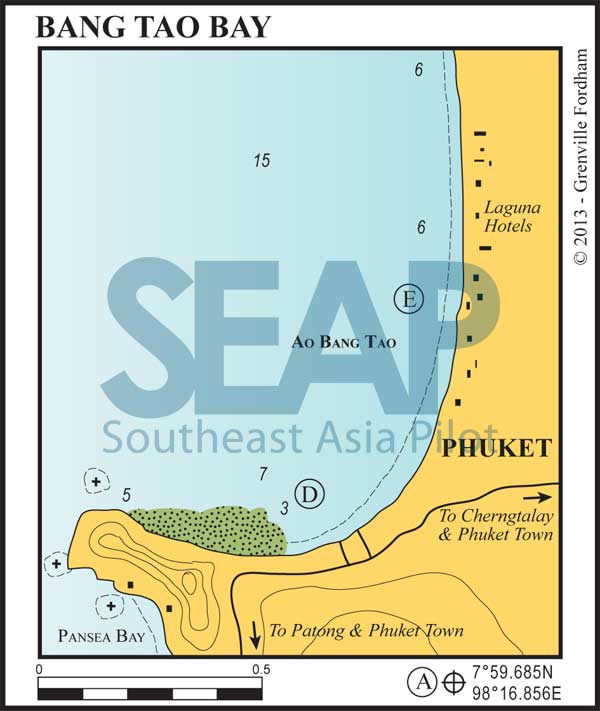 AMANCRUISES BASE
9 miles from Patong Bay
AMANCRUISES BASE. 7°59.245N, 98°17.080E
Anchor in sand on 8-10 metres northeast of the rocky outcrop on the beach. Be careful of the many floating polypropylene lines, both among the fishing boats and close to the beach, when coming ashore by tender. Only 25 minutes from the airport, this anchorage is often used as a charter departure point.
LAGUNA
11 miles from Patong Bay
LAGUNA. 8°0.398N, 98°17.338E
Anchor in 6-8 metres on a sandy bottom in front of any of the hotels. All the hotels in the Laguna Phuket complex can be accessed by the free resort transport and they are all connected by inland lakes and backed by a golf course. Just 25 minutes from the airport, this is a useful pick-up point for visitors.
Catch Beach Club is in the south end of the bay and Dream Beach Club the north. Just past Dream, and just inside the island, is a high tide creek that can be accessed by dinghy leading to two huge, previously tin-dredged inland lagoons. Ashore is the super luxury Anantara Layan Phuket Resort and villas.
Click to view Thailand photo gallery.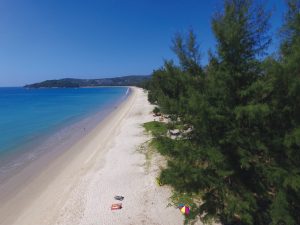 See also: