Similan Islands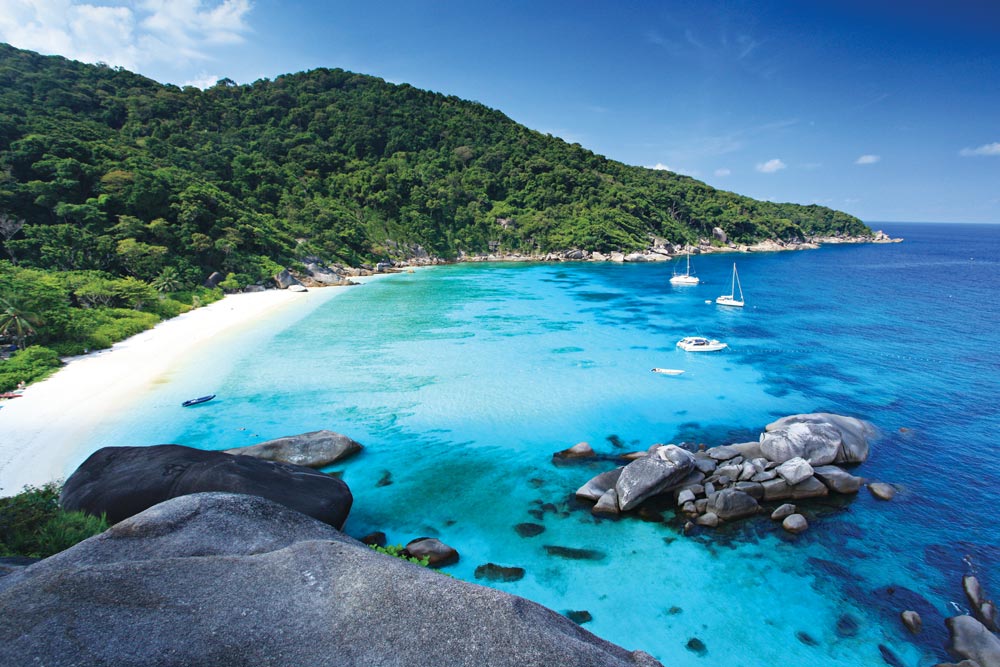 This group of rocks and islands, 34 miles west of Thap Lamu and 50 miles northwest of Patong, was declared a marine National Park in 1982. Consequently it remains largely undeveloped. The name is derived from the Malay 'sembilan', meaning 'nine', and refers to the nine main islands in the group.
The islands are commonly named from 1 to 9, running south to north; Koh Similan itself, for example, is #8. Each also has a name, as we show on the charts, though even local fishermen might not recognise them. There are National Park ranger stations on islands #4 and #8.
Read more
KOH SIMILAN
61 miles from Patong Bay
KOH SIMILAN. 8°39.921N, 97°38.730E
The bay on the northwest side of Koh Similan (Island #8) is the best protected overnight stop in the group. Inside the bay, on the 8-12 metres sand and coral outcrop shelf, the government has installed moorings for general use.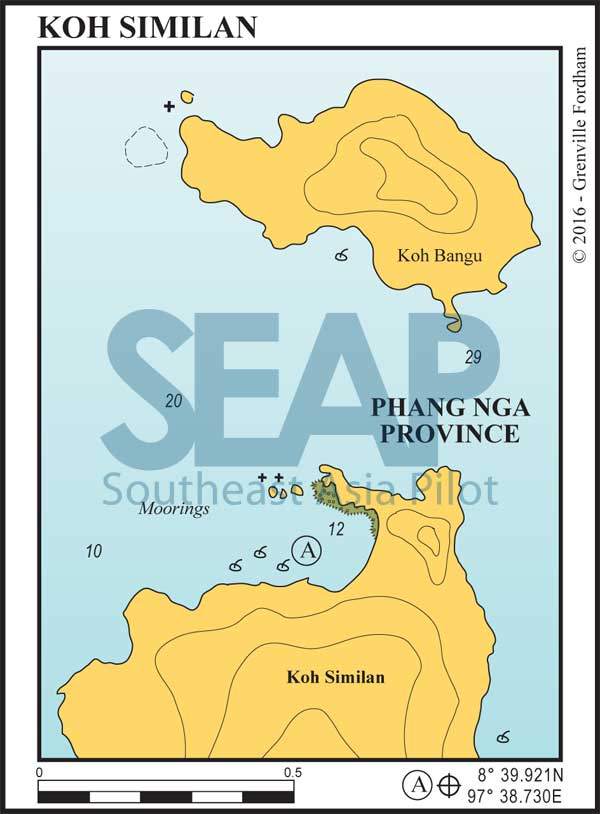 Other moorings laid by dive shop operators can be used if vacant. However, dive boats often return in the late afternoon to use the moorings. If all moorings are taken, anchorage is only possible on the outer edge of the bay in 15-30 metres.
Click to view Thailand photo gallery.
Read more
KOH MIANG NATIONAL PARK HEADQUARTERS
56 miles from Patong Bay
KOH MIANG NATIONAL PARK HQ. 8°34.365N, 97°38.209E
Anchorage is in 12 metres, as the sandy bottom starts to fall away to deeper water. Completely open as it is to the northeast, it's not a good overnight anchorage when the monsoon is strong or unpredictable.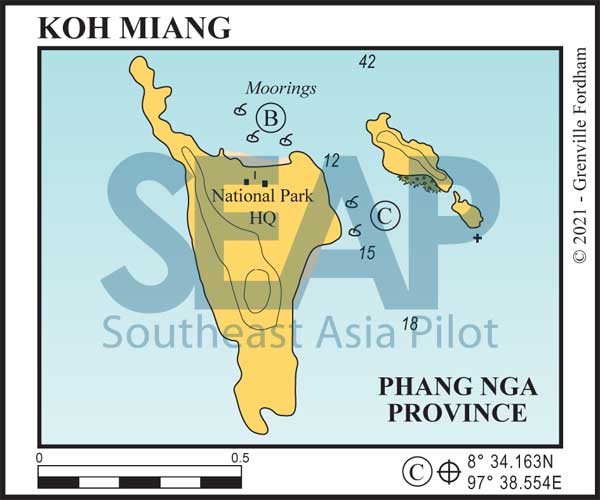 Beautiful white sand backs fringing coral gardens, which extend some 200 metres off the beach. In the trees behind, the national park headquarters for the Similan Islands offers some basic bungalows, tent camping grounds and a small restaurant.
There's great snorkelling and shallow diving on both sides of the bay. Ashore you'll find easy trails for forest walks. The trees that overhang the beach here, including the 'poison fish tree' (named for the effect its seeds have on fish when ground up), are attractive and noteworthy.
KOH MIANG EAST
56 miles from Patong Bay
KOH MIANG EAST. 8°34.163N, 97°38.554E
A better anchorage, one sheltered from both the northeast and the southwest is between Koh Miang and the small islets to the east in about 10-15 metres on a sandy bottom. Though a strong current runs through the channel, the holding is good.
Closer to the beach on Koh Miang, anchorage can be found in 8-10 metres on a sandy bottom.
Access either to the park headquarters beach or to a smaller beach opposite is easy by dinghy. There's a trail from the smaller beach to the park headquarters. The snorkelling and diving is excellent around the small islet and among the coral heads, which appear indigo against the intense blue-green of the deep clear water.
See also: