Patong Bay
Patong Bay is the busiest tourist beach on Phuket, boasting hundreds of hotels ranging from 5-star resorts to lowly budget guesthouses, a great variety of restaurants and a vibrant and surprising nightlife.
Supermarkets and little fresh food markets sell provisions, though prices are naturally somewhat higher here in ?tourist-land? than in Phuket City. Jungceylon (one of the original names for Phuket) is the biggest megamall on the island, taking up three city blocks at the end of the entertainment strip in the middle of the bay.
Dinghies can generally be left unguarded near the police post in the centre of the beach.
Several high-rise buildings were constructed on Patong before a height limit was imposed, clipping developers aspirations to turn this into a completely urban, high-rise resort. None the less, Patong is more populated than Phuket City, is a city in its own right and certainly cannot be described as tranquil or picturesque.
Although this bay provides for all the basic needs of a cruising yacht, including a rollicking nightlife, it?s a noisy, hectic anchorage.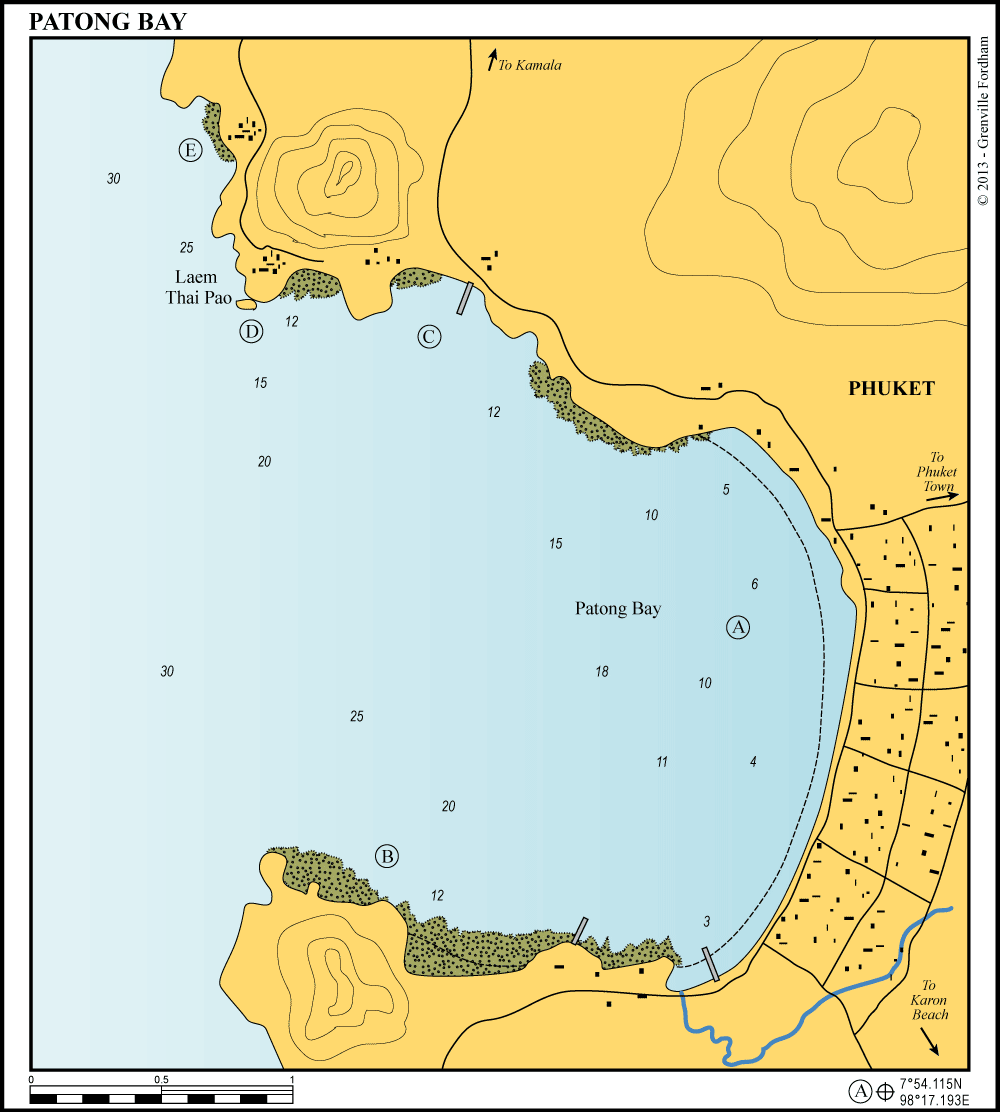 PATONG BAY
18 miles from Ao Chalong
PATONG BAY. 7° 54.115N, 98° 17.193E
The gradually sloping sandy bottom permits anchorage in 5‑20 metres anywhere in this broad bay. To the south end of Patong bay is a fixed jetty and a floating jetty which is used during the high season as a transit point for the growing number of visiting superyachts and cruise ships.
Patong is the busiest bay on the west coast, particularly around Christmas, New Year and April's Songkran water festival. It is also the main high season anchorage for cruise ships, liveaboard dive boats and superyachts.
On the northern rocky side of the bay are four landmark restaurants, Baan Rim Pa Patong and Kalim, Da Maurizio's and Joe's Downstairs, all founded by the late Tom McNamara, an American entrepreneur who set the standard for Phuket restaurants decades ago.
SOUTH POINT. 7° 53.343N, 98° 16.462E
Anchor in 8-10 metres on a sandy bottom off one of the three beaches. The larger one, Tri Trang Beach, has a resort ashore and a road to Patong. This is a good stop for the night if a southwesterly swell is running early or late in the season.
The smaller beaches are also a favourite daytime excursion for longtails operating from the main beach. Many divers and snorkellers come to enjoy the underwater sights within easy range of the beach facilities of Patong.
NAKA LAY BAY
19 miles from Ao Chalong
NAKA LAY BAY. 7° 55.330N, 98° 16.415E
In the north of Patong Bay, Thavorn Beach Village resort has a concrete jetty extending beyond the drying fringe coral. Many yachts are forced to shelter here late in the season when the westerly ground swell gets uncomfortable.
LAEM THAI PAO
19 miles from Ao Chalong
LAEM THAI PAO. 7° 55.423N, 98° 15.961E
Just inside the northernmost point in Patong, this bay has a steep coral shelf rising from a sandy bottom in about 12 metres. Lots of colourful corals and fish await the underwater explorer.
Access to the beach, now overlooked by a villa housing development, is best at high water.
WATERFALL BAY
19 miles from Ao Chalong
WATERFALL BAY. 7° 55.856N, 98° 15.648E
This mere indentation in the headland affords shelter for one or two boats. Anchor in about 15-20 metres on a sandy bottom with scattered coral in front of the residential villas.
In the corner of the bay you will find a spring which is accessible by dinghy – bring your jerry cans. The spring often dries up by the end of the dry season, so don't rely on it.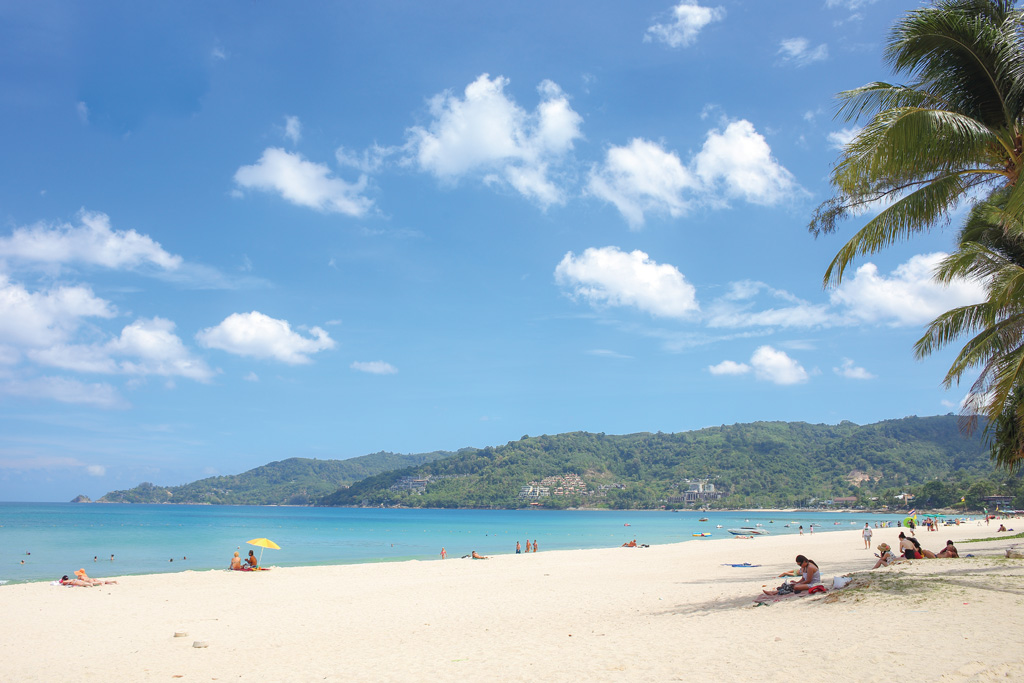 See also: