Koh Phra Thong
The most northerly coastal anchorage before Ranong on the Burmese border is Koh Phra Thong, (Golden Buddha Island), approximately 30 miles east of Koh Tachai and the same distance southeast of the Surin Islands. In recent years, several eco-resorts have been developed amongst the beaches and islands around Koh Phra Thong. This is an excellent location for a quiet vacation close to nature.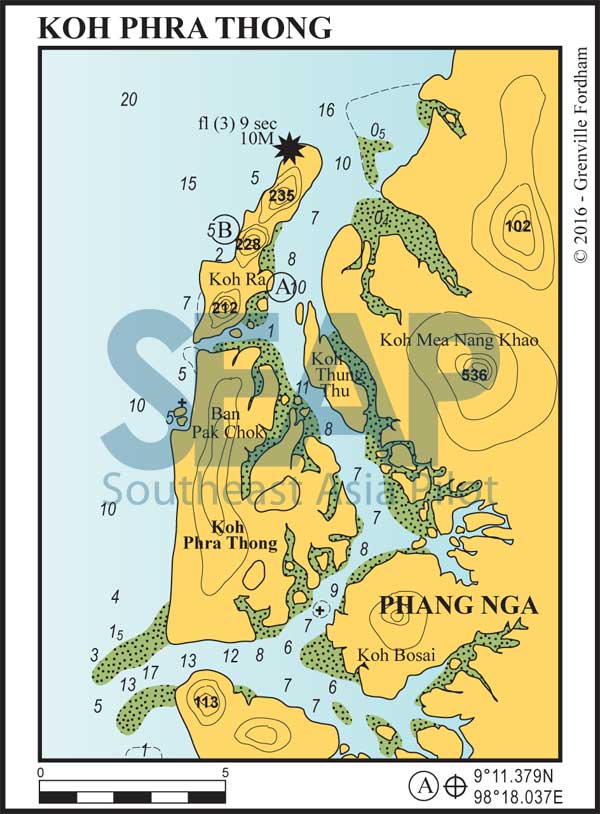 BAN PAK CHOK
82 miles from Patong Bay
BAN PAK CHOK. 9°11.379N, 98°18.037E
This is an all-weather anchorage lying inside an inland waterway protected from the sea by Koh Ra. Entrance from the north is easy, with deep water close to Koh Ra; the southern channel must be navigated with care, especially near the small rock mid-channel, passing to the south of the obstruction. Anchor in 6-10 metres on a muddy bottom just east of the non-navigable channel between Koh Phra Thong and Koh Ra.
About half a mile from the anchorage, look for a village with a jetty that dries at low tide.
WEST KOH RA (BEACHES)
82 miles from Patong Bay
WEST KOH RA. 9°12.907N, 98°16.411E
The west coast of Koh Ra has several small beaches with good snorkelling and swimming, and provides safe anchorage in the northeast. Approach from the west until encountering depths of 4-8 metres, and then anchor on a sandy bottom.
See also: