Racha Islands
Koh Racha Yai lies 10 miles to the south of Phuket, with Koh Racha Noi a few miles further. The waters between the southern tip of Phuket and Racha Yai are often confused in both seasons, particularly when you have wind against the tide.
In local dialect, these islands are often pronounced, and often written, as ?Raya?, so don?t be confused. (Racha means ?king?, yai is ?big?, and noi means ?small?).
The Racha is a 5-star resort in the northwest bay of Racha Yai, which is the first development of its kind on the island. There are also some budget bungalows and restaurants here, concentrated near the north of the island. Quad bikes are available for rent to explore the many trails and coves.
Day trip longtail and speed boats make the journey to these islands from Phuket, and beach umbrellas are set up in anticipation. Excellent diving, snorkelling, and fishing are to be found all around this group.
RACHA YAI BAY
14 miles from Ao Chalong
RACHA YAI BAY. 7°36.671N, 98°21.787ERACHA YAI BAY. 7°36.671N, 98°21.787E
This is one of the real tropical paradises of the area. A fine white sand beach is framed by a bay fringed on both sides with coral. The clear waters are a vivid aquamarine tending to turquoise. Most of the shallower part of the bay now has moorings and the only anchorage
opportunity is in 15-25 metres on sand and calcified coral in the outer bay. Sandy patches do exist closer in, but take care to avoid damaging the reef or fouling your anchor.
The Racha Resort has installed a high season floating jetty in the southern corner. You're welcome to tie your dinghy to the jetty, if you're eating at the hotel. Tie up close to the beach to avoid hampering the resort's transfer boats.
The diving and snorkelling are excellent. The beach is frequented every day by dive boats and day trippers so, if you have crew leaving, opportunities for transportation back to Phuket are many.
The evenings are peaceful after the day-trip boats have departed, making this a delightful night anchorage, following a spectacular sunset in this west facing bay. There are several walking tracks to other beaches and across the island. Dive tanks can be filled on the beach.
RACHA YAI EAST
14 miles from Ao Chalong
RACHA YAI EAST. 7° 36.264N, 98° 22.634E
During the southwest monsoon, the east coast of Koh Racha Yai lends shelter for overnight stops in all but the strongest conditions. There is a deep water anchorage in 10-20 metres on a broken coral and sandy bottom. A few day dive boat moorings are available but are mostly too shallow for keelboats.
It also affords access to two small beaches with excellent snorkelling and diving, although sometimes there are strong currents. From the floating jetty in Ter Bay a pleasant, easy 20-minute walk takes you through coconut plantations to the north and west beaches. Ahsore is the Ban Raya Resort.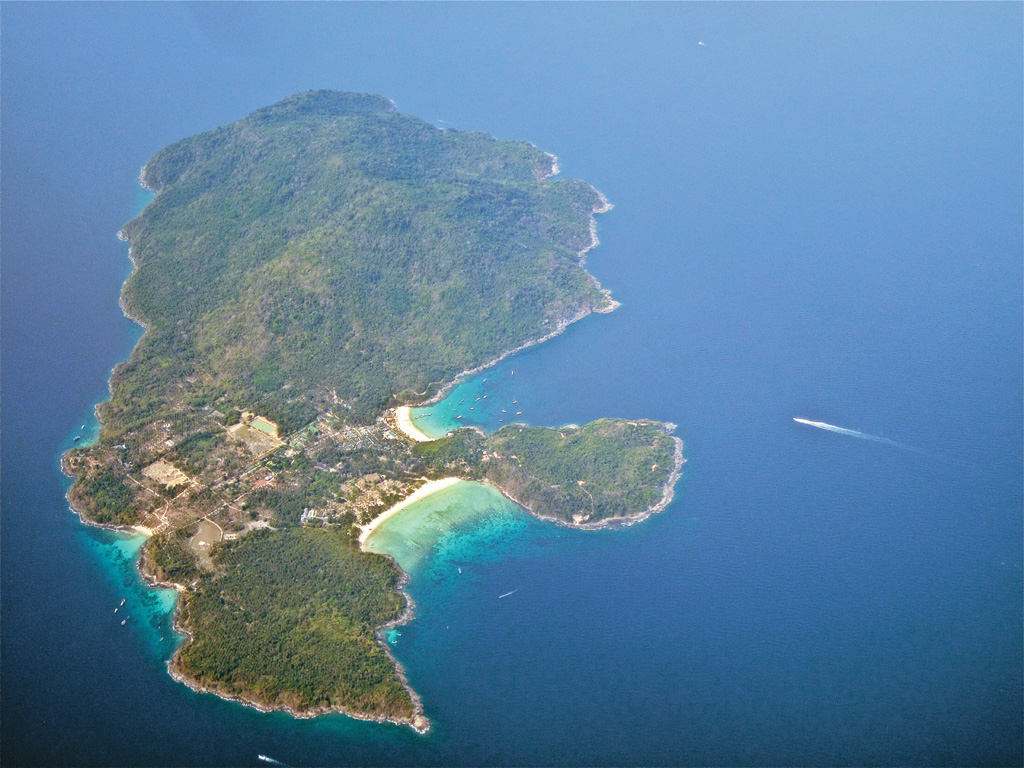 RACHA NOI WEST
21 miles from Ao Chalong
RACHA NOI WEST. 7° 29.537N, 98° 19.047E
This is a good lunch destination from Koh Racha Yai in the northeast monsoon. Look for a deep water anchorage in 10-20 metres close to the small gap in the island; passage through this gap in a dinghy should only be attempted at high tide.
There is good diving and snorkelling along the shores on a mainly rocky bottom. Bottom fishing and trolling around Racha Noi is good.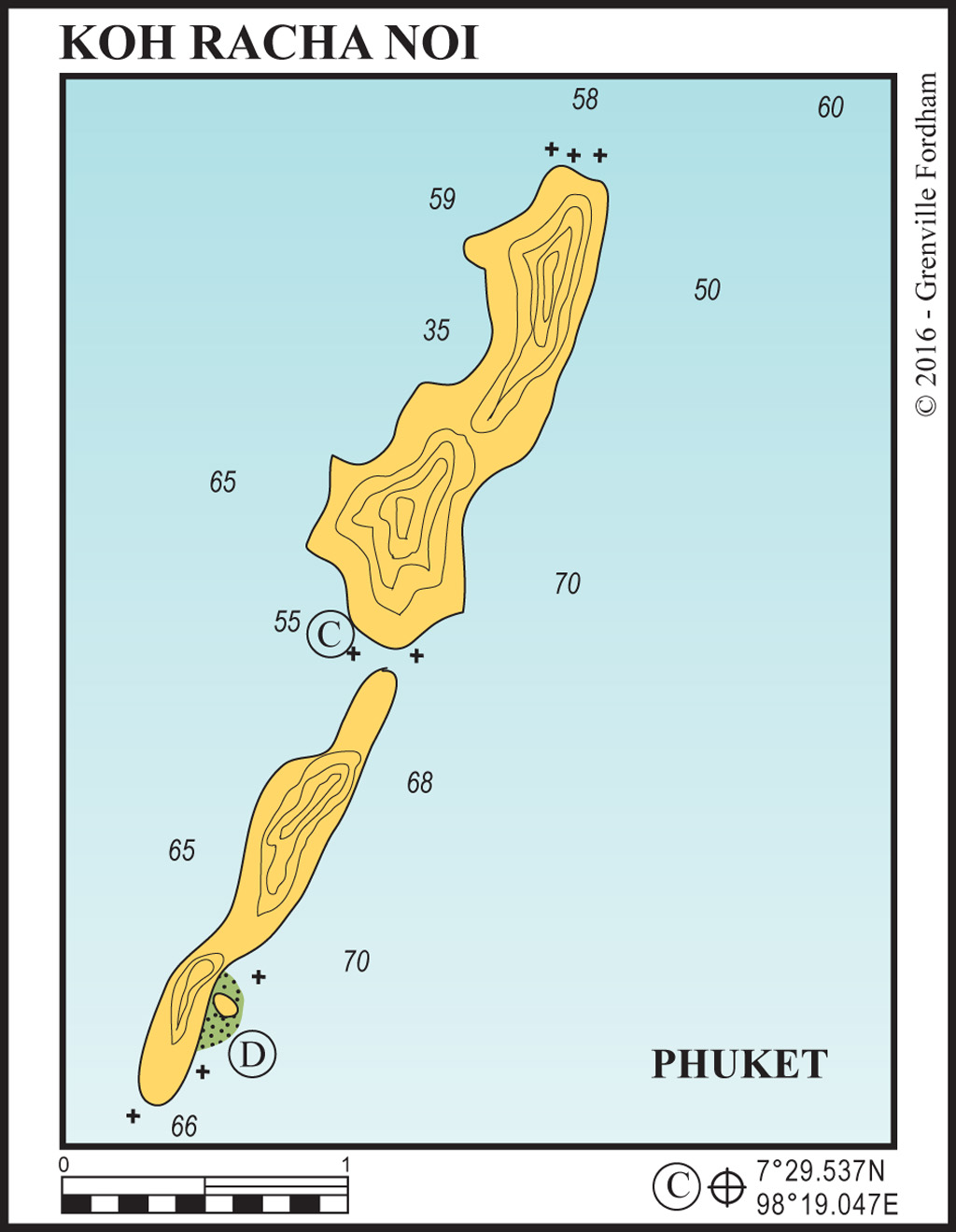 RACHA NOI EAST
23 miles from Ao Chalong
RACHA NOI EAST. 7° 27.905N, 98° 18.525E
This anchorage in 15-20 metres is similar to that off Koh Racha Noi West. It makes a convenient daytime lunch stop during the southwest monsoon.
The swimming, diving and snorkelling are great, with the added attraction of a sandy beach connected to a small rocky islet. Please help keep this gem clean by taking a garbage bag if you visit the beach, as much flotsam and jetsam collect here.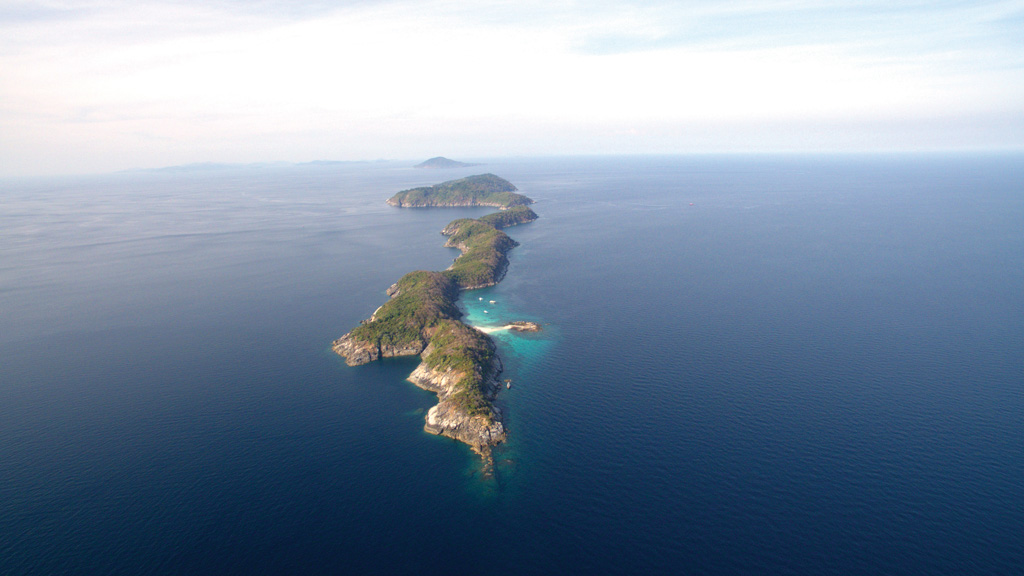 See also: