Koh Ngai, Koh Muk & Koh Kradan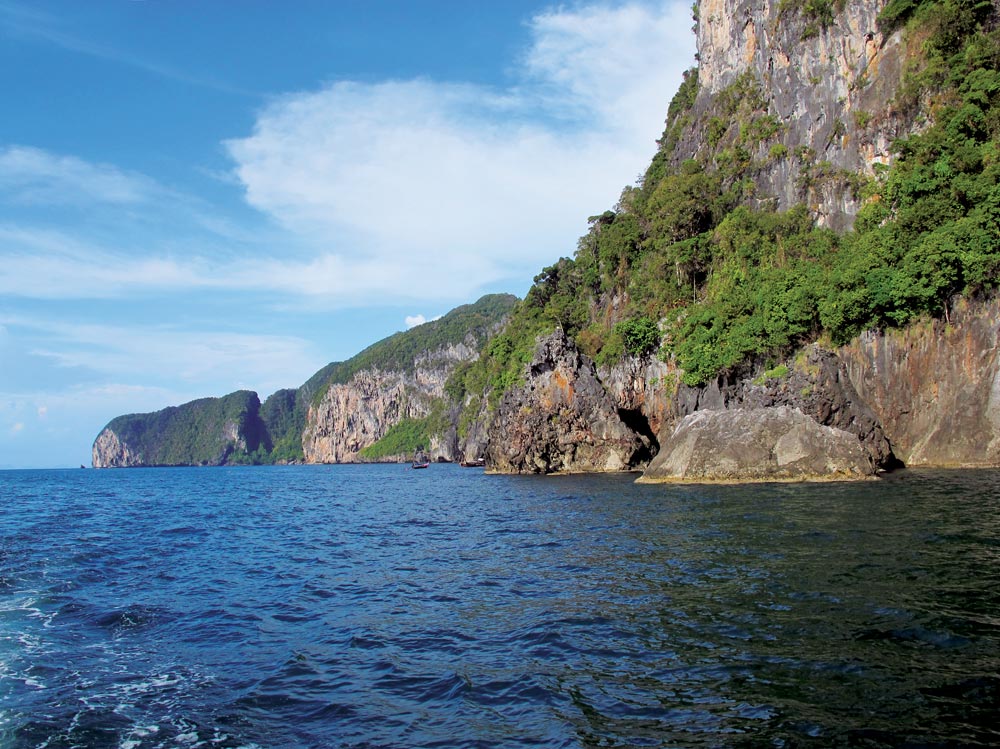 These three islands are the northernmost in the Hat Chao Mai National Park and are the most visited by tour boats. Quite different from each other in geology, they all have some bungalow development and interesting features.
The area just south was part of Malaya until 1909 and its ancient Muslim culture migrated north, with mosques still dominating these remote fishing villages.
Read more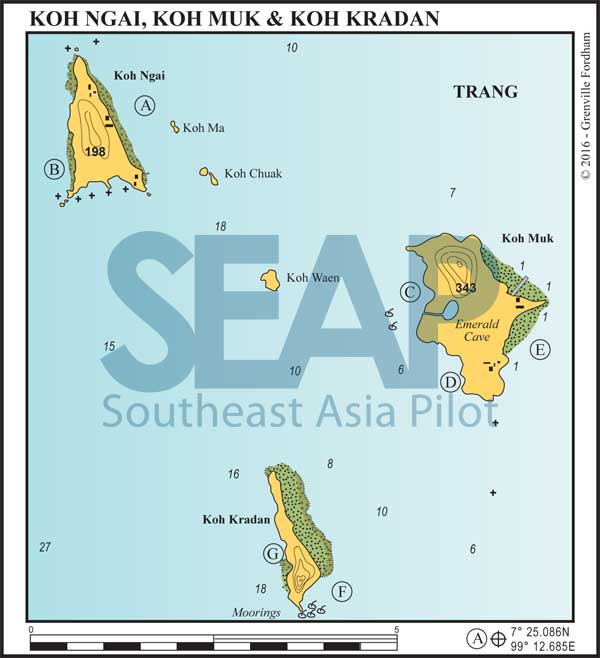 KOH NGAI EAST
8 miles from Koh Lanta Lighthouse
KOH NGAI EAST. 7°25.086N, 99°12.685E
Anchor anywhere off this coast in 6-8 metres. On the southeast corner a small jetty serves bungalows and a restaurant where limited supplies are available.
The east coast is a long white sand beach fringed with coral. At the north end, the Koh Ngai Villa is the most upscale in the area, with spacious fan bungalows and a restaurant with stunning panoramic views. This coast has become more built up in recent years, but in the southwest (low) season, when it's more protected as an anchorage, most of the restaurants are closed down.
Read more
KOH NGAI WEST
6 miles from Koh Lanta Lighthouse
KOH NGAI WEST. 7°24.315N, 99°11.649E
Anchor in 8-10 metres off any of the three beaches with small resorts ashore on the west coast. These anchorages offer excellent protection in the northeast monsoon.
KOH MUK WEST (THAM MOROKOT)
13 miles from Koh Lanta Lighthouse
KOH MUK WEST. 7°22.128N, 99°16.963E
Also known as Sabay Bay, this anchorage is our pick of the group. Anchor in the northeast monsoon only in 6-8 metres between the two towering cliffs and off the very small beach. The shoreline north and south is honeycombed with crevices and caves, making for excellent dinghy exploring. The beach leads to a small freshwater creek. There is a rough path that leads up over the hill to the main village of Koh Mak.
A few hundred metres south of the anchorage is the entrance to Tham Morakot − the 'Emerald Cave'− easily recognisable by the mooring buoys with ropes leading into the entrance of the cave.
Read more
Click to view Thailand photo gallery.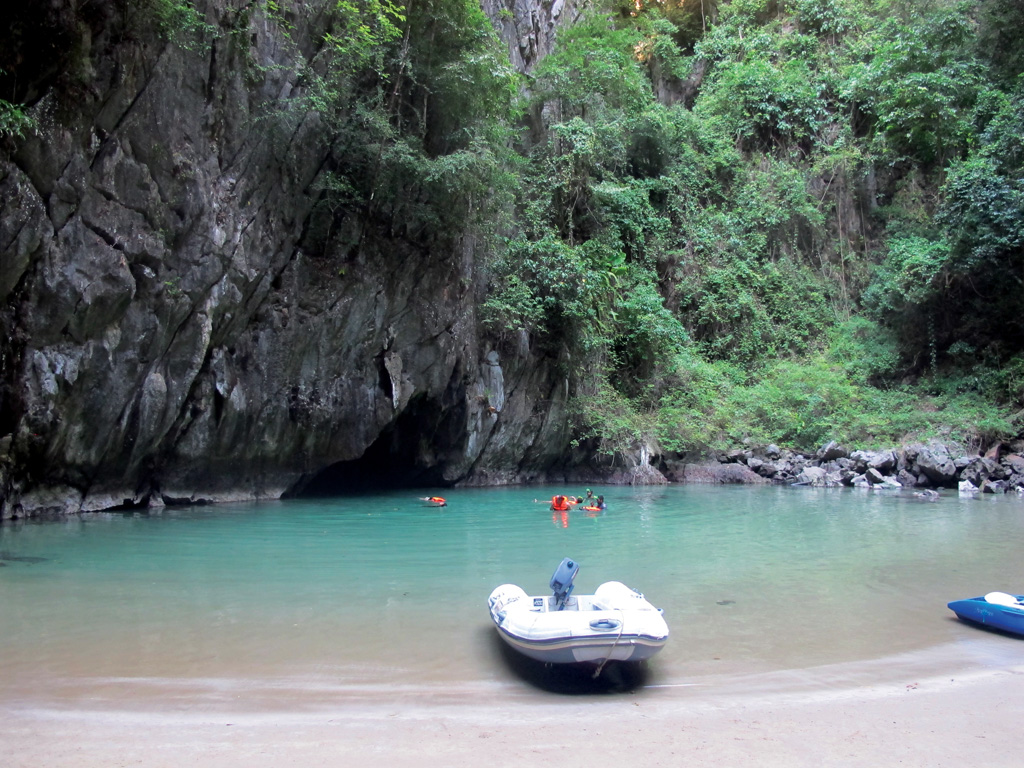 KOH MUK SOUTH
14 miles from Koh Lanta Lighthouse
KOH MUK SOUTH. 7°21.531N, 99°17.540E
This secluded anchorage in 6 metres offers good holding on a muddy bottom. Sometimes there is also a buoy available.
Facing southwest, the bay has an all-tide beach and makes an ideal overnight haven in the northeast monsoon season. Perched high on, and jutting out over, the rocks at the southern end of the bay is a no-name, family-run, restaurant with good food and a warm welcome for yachties.
Read more
HAT SAI YAO & EAST COAST KOH MUK
15 miles from Koh Lanta Lighthouse
HAT SAI YAO. 7°22.105N, 99°18.648E
Anchorage can be found in the shallow southeast facing bay in 3-5 metres on a sandy bottom. Ashore are Sawadee Resort and Charlie's Bungalows on the 800-metre-long, jungle-backed beach. The Sivalai Resort occupies the sand spit running east to the north of the anchorage.
Shallow anchorage is also possible east and north of the sandy headland halfway up the east coast. A long jetty is situated at Hua Laem Muslim village and Koh Muk Resort is to the north.
KOH KRADAN S.E. BAY
14 miles from Koh Lanta Lighthouse
KOH KRADAN SOUTHEAST BAY. 7°18.168N, 99°15.527E
Look for anchorage off the small southeast-facing bay with a small resort ashore. The bay remains deep until close in, and vessels can pick up a mooring or anchor in no less than 10 metres. At the south end of the beach is a small National Park Head Quarters with exceptional snorkelling offshore. There are several small resorts ashore and a trail leading through to the west and east coasts.
This makes a nice day anchorage although, depending on the prevailing season, better overnight holding can be found on the east or west coasts. The Anantara Si Kao Beach Club and a small bungalow resort welcome visitors. Anchorage is available in no less than 12 metres anywhere along the east coast, taking care to approach the visible fringing reef very slowly and preferably perpendicular to the beach.
KOH KRADAN WEST BAY
12 miles from Koh Lanta Lighthouse
KOH KRADAN WEST BAY. 7°18.487N, 99°15.049E
Reasonably sheltered in the northeast season, this anchorage lies in 10-12 metres on a muddy bottom. This stunning beach is palm-fringed and a track cuts through the island to the eastern side where there are eight restaurants.
See also: